Contrary to its name, flatware shouldn't be flat. In fact, it should be the exact opposite of flat.
The right set of flatware can turn every meal into something worth looking forward to at the end of the day. But, when it comes to flatware, looks aren't everything.
Quality flatware is hard to come by, especially since most manufacturers have outsourced their production to China. However, even if that is true, some manufacturers have chosen to go against the trend. Instead, they've remained in their home countries or outsourced to countries outside of China in order to make it easier to maintain their quality.
What are flatware made of?
Flatware is made from a composite steel material with chromium and nickel as the main ingredients. When determining the quality of flatware, you'll want to look at the percentages of both chromium and nickel. Stainless steel flatware sets are labeled with one of three ratios indicating the amount of chromium and nickel: 18/10, 18/8, or 18/0. 
Now another question is, why would you want to buy flatware not made in China? Well, safety is a big reason. Flatware made in China is not always considered as being safe. 
According to Liberty Tabletop, all big manufacturers test their "melts" with international standards, but some factories in China neglect this step in the process. Flatware made in the USA gets tested after the manufacturing phase and needs to be approved as safe before being distributed. 
We took the time to list down some of the best flatware not made in China today.
This is what we found. 
When it comes to US-made flatware, anything made by Sherrill Manufacturing is pretty much a shoo-in at this point.
After all, the New York-based manufacturer is the only company in the United States that continues to make flatware in the land of the free.
However, just because it's made in New York doesn't mean that it's good. Mind you, the Liberty TableTop Betsy Ross flatware set still would've made this list if it was made anywhere else outside of China.
Light, evenly balanced, and with hollow-handle knives, the Betty Ross flatware is a delight to hold, especially when eating.
Many love the elegant aesthetic that's reminiscent of the same flatware sets used in fine dining. Not to mention, everything is just made to be perfect.
The soup spoon bowls, in particular, hold a surprising amount of liquid despite looking not as deep as they do. Also, the tapered tips of the spoons mean that you won't be feeling as much metal inside your mouth when eating.
As an added bonus, Sherill Manufacturing's subtle and discreet etching adds a touch of elegance and class to the flatware set.
Liberty Tabletop is one of the top brands manufacturing quality stainless flatware. When looking for quality, non-Chinese flatware made in the USA, Liberty Tabletop is a popular choice.
Pros:
Lightweight and evenly balanced
Inconspicuous manufacturer markings
Mirror-finish
Shares many qualities with sterling silver flatware
Cons:
Relatively expensive for stainless steel flatware
Other Liberty Tabletop flatware options:
The Oneida Lousiana Flatware set is as traditional as it gets.
The timeless intricate and ornate design is well-recognized in the United States and all over the world. Although the company has since moved its flatware manufacturing to other countries, specifically, Toluca, Mexico, to keep up with the demand, the quality of the Louisiana has not suffered.
Made out of 18/10 stainless steel, the Louisiana is built to last.
It's dishwasher safe, and more importantly, it never needs polishing. That latter bit is especially crucial for families who can no longer afford the time for the upkeep of flatware, whether it be through manual washing and/or polishing.
Neither too thick or too thin nor too pointed, each fork, knife, and spoon is comfortable to hold when eating or cutting.
As has always been the case with most of Oneida's flatware, the manufacturers back each piece with a limited lifetime warranty.
Pros:
Backed by a limited lifetime warranty
Comfortable grip
Timeless handle details and design
No need to be polished
Cons:
The design doesn't lend itself too well for more modern table settings and designs
Other Oneida Flatware Options: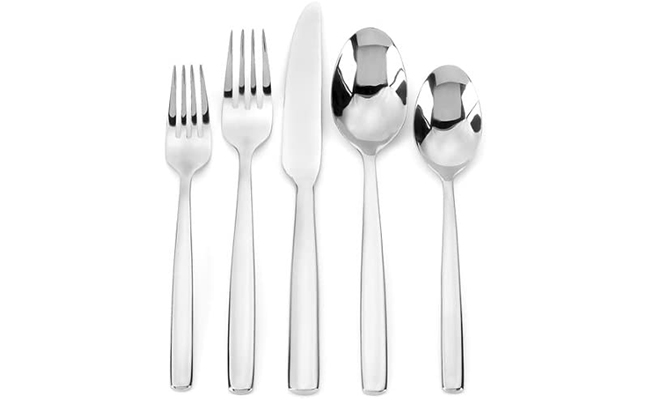 Just as the name suggests, the Simple flatware set by Ginkgo International is proof that, sometimes, it's best to keep things simple.
Featuring a no-fuss modern design, complete with squared-off endpoints paired with its straight handles, the Simple is best for those who would love to add elegance to their every meal without necessarily breaking the bank.
Although the 18/0 stainless steel is not as good as 18/10 nor 18/8, the Simple does carry quite a bit of heft to it.
This suggests that the manufacturers did not cheap out. Not to mention, the manufacturers also claim that the Made in Korea product is safe for dishwasher use, which further suggests that the Simple can withstand quite a bit of abuse.
Reasonably priced, especially considering how elegant it looks, the Simple, at its most expensive configuration, comes with enough service for 8 people plus two solid service spoons for the hostess.
Pros:
Mirror finish complement the minimalistic design well
Reasonable price point
Good balance with just the right amount of weight
Cons:
Other Ginkgo Flatware Options:
For arguably the best flatware not made in China, and easily one of the most expensive, the Christofle Mood guarantees that your flatware will always impress guests and never go out of style.
Made in France, the Essential comes complete with 6 sets of dining essentials.
What really sets it apart though is that it comes with its own decorative mirror-polished stainless steel cylinder case.
Not only does this make storing the flatware easier, but the container itself adds aesthetic value to the entire set. Not to mention, the insides are made out of white oak wood and have a resin divider for the cutlery, which guarantees that the set remains as good as new for as long as you have it.
So long as the price is not a problem for you, the Christofle Essential is a must-have.
Pros:
Comes with a decorative mirror-polished stainless steel cylinder case for easy and stylish storage
Sleek and streamlined design fits both modern and traditional table settings well
Comfortable to handle with just enough weight to it
Cons:
Another Christofle Flatware Option:
Mikasa has a number of flatware sets that are worthy of being included on our list. However, the Cocoa Blossom stands out for a number of reasons.
For one, the exotic floral motif found on the flatware handle adds a timelessness to each piece that allows the set to complement any kind of table setting, whether it's for formal purposes, or for everyday use.
The satin finish also means that you won't have to worry too much about polishing the flatware set.
While a little bit of TLC always goes a long way with flatware, rest assured that the Cocoa Blossom can withstand a little bit of abuse every now and then.
Also, speaking of abuse, the set is dishwasher safe. This means that not only do you no longer have to worry about polishing it up, you also don't have to worry about manually washing each piece.
Each piece is crafted from 18/10 high-quality stainless steel and is made in Vietnam.
In total, the 65-piece flatware set is enough for 12 people, and also comes with a serving set that comes with a pierced tablespoon, cold meat fork, butter serving knife, tablespoon, and a sugar spoon.
Pros:
Attractive pricing for a 12-piece set
The satin finish makes for easier clean-up and maintenance, making each piece more likely to look just as good as new even after years of use
The organic, swirling pattern creates a timeless aesthetic fit
Cons:
There are customer reports about rusting issues when the flatware are run constantly through the dishwasher
Another Mikasa Flatware Option:
How has flatware evolved from previous years?
When we think about antique silver flatware of the 19th and early 20th century, created by companies such as Tiffany & Co. and Gorham, it is almost impossible to think that these big names had humble beginnings. 
Take the spoon, knife, and fork, just think about how they came into the world. Spoons, knives, and forks came to be at different periods of history and in very different ways. Flatware played a big part in advancing civilization and often made an important personal statement in society.
Whether utensils or flatware were commonly used or the subjects of the strictest etiquette, it is difficult to imagine life without them. These days, some people are into flatware patterns while others are into classic or European design.
Final Thoughts
It doesn't matter what the occasion is. It might just be your daily meal, or it might be for a dinner party that you're hosting. Either way, having quality flatware will always help every meal and occasion become more memorable.
With that said, the 5 we listed above are some of the best flatware not made in China.
Durable, attractive, and most important of all, made in either Vietnam, the USA, Korea, or Mexico, this flatware is guaranteed to last you for years if not your entire lifetime.