Multiple news outlets and countries spoke out against China's election to the United Nations Human Rights Council, given it's history of abuses and increasing use of economic pressure to gain votes from smaller nations. https://www.dw.com/en/chinas-human-rights-record-slammed-after-unhrc-reelection/a-55273367

40 countries signed a joint statement criticizing China's treatment of minority groups and increasing repression in Hong Kong. https://www.latimes.com/world-nation/story/2020-10-06/nearly-40-nations-criticize-chinas-human-rights-policies

The UK's Foreign Secretary said that the UK could boycott the winter Olympics in China as a result of human rights violations. https://news.sky.com/story/uk-could-boycott-winter-olympics-over-egregious-human-rights-violations-in-china-raab-suggests-12092145

Pew Research found among primarily Western Countries a strongly negative view of China.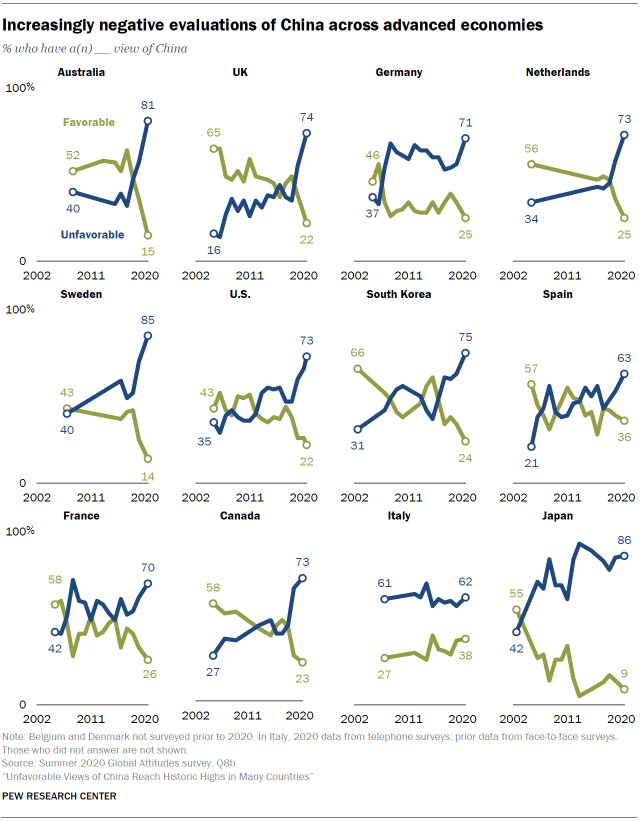 Science Daily reports that a study found that due to air pollution in China many workers choose food delivery services, which in turn creates more plastic pollution.
https://www.sciencedaily.com/releases/2020/10/201019133646.htm

Bloomberg reports that 80% of Chinese are regularly exposed to excessive pollution levels and that more than a million die every year from pollution related causes.
https://www.bloomberg.com/opinion/articles/2020-10-24/why-china-could-lose-its-war-on-pollution

China once again threatened Taiwan with invasion and conducted a live fire drill practicing taking over an island.