When it comes to style, the use of t-shirts remains hotly debated. While some see them as a staple that one can brandish on any occasion, some feel that they are sloppy-looking pieces of clothing that should only be worn in the gym.
As an ideal get-up that screams comfort and simplicity, there are countless ways to make a fashion statement even by simply slipping on a plain tee.
While this easy-to-wear, little to no-thought apparel remains to be on top of everyone's wardrobe list, we take a closer look at this basic yet stylish outfit and why it is better to wear American-made t-shirts.
What Separates Plain Shirts From The Rest?
Whether in black, white or in various vibrant colors, a plain t-shirt has long been a clothing essential.
Beloved by many for its distinctly modern feel, the t-shirt's functionality and comfort continue to make it a part of every person's wardrobe.
Here are some of the reasons why a plain t-shirt should always have space in your closet and how it remains to be our outfit of choice through all these years.
Timeless
Although they say that fashion comes and goes in a cycle, a blank t-shirt just never goes out of style. Its enduring effortless appeal has made it a wardrobe favorite and has been worn by fashion and style icons from New York to France.
By keeping a host of reliable plain t-shirts in storage, it enables you to fuse elements of your fashion to create infinite outfit combinations.
Fashionable
While there are no signs of minimalist fashion slowing down, rocking a blank t-shirt means you are always on the latest trends.
A plain t-shirt can easily blend with any style, keeping you looking fashionable and well-dressed.
Versatile
From the James Dean classic of white tee with blue jeans, having a wardrobe amply stocked with plain t-shirts can help add variety and flexibility to your style.
By working well as extra layers of protection in the colder months and equally sharp when the weather turns warm, blank t-shirts can no doubt add flavor to your closet.
By simply topping it with cardigans or jackets, your plain shirt could well be the hardest working item in your arsenal.
Unmatched Comfortability
Since most t-shirts are made of breathable cotton to provide serious comfort, sporting a blank t-shirt can make you feel cool and cozy all while you flaunt your style.
Crafted from amazingly soft garments, blank t-shirts do not only feel great on your skin, but they usually snug your shape perfectly for a more comfortable yet distinguished look.
Cost-Effective
Plain t-shirts are a great way to expand your wardrobe sans the need to break the bank.
Although its price ranges from a few dollars to a few hundred, a plain t-shirt can help enhance your style at a very reasonable amount, giving you the best bang for your buck. 
Now more than ever, blank t-shirts have fast become a fashion essential.
From being the foundation of a chic minimalist wardrobe to being a reliable complement to a plethora of trendy accessories, high-quality American-made t-shirts can get you looking elegant, stylish, and not too shabby.
When Can I Wear My Blank T-Shirt?
It shouldn't come as a surprise that because of comfort, minimal cost, and style of a plain shirt, what started as inner wear has gained a reputation as the most casual clothing.
From those sweaty little boys in the playgrounds to the most sophisticated style advocates, most of us agree that a blank t-shirt plays a critical role in our wardrobe.
And while wearing a shirt by itself makes you seem underdressed and maybe a little sloppy, knowing when to don your favorite good ol' v-neck spells the difference between carelessly clumsy and casually smart. Here are a few factors:
The Dress Code
Best for hanging out with buddies as well as strenuous activities, your blank shirt, no matter how new or expensive, will gain you dagger looks and raised eyebrows if you wear it on formal occasions.
Unless you work in a very informal office, Casual Fridays are out as well for they are more appropriate in laid-back and loosely organized settings.
The Activity
You should know by now that t-shirts were designed for playing sports or for getting physical tasks done. The more you expect to move and sweat, the more proper wearing a shirt becomes.
However, although wearing a gray shirt can be flattering as it compliments your shape, it easily shows armpit sweat which does not really leave a good impression.
Watch Your Frame
When it comes to wearing t-shirts, it is a known fact that having an amazing physique makes you look sharp.
While sports jackets and dress shirts fare well when you are overweight or thin as they add a little structure to your frame, t-shirts almost always are a better choice for those who are fit since they are the ones who can easily get away with wearing tees.
No matter how old and worn out your blank t-shirt can be, it is still one of the most attractive and comfortable garments available to wear.
Great for hanging out, small get-togethers, running errands, and a range of activities, plain t-shirts have withstood the test of time, fashion, and style.
The Best T-Shirt Blanks Made In The USA
While finding a wholesale t-shirt distributor can be relatively easy, landing one that offers reliable and high-quality products is a whole different story.
By selling blank t-shirts at a more affordable wholesale price, custom t-shirt business owners are provided with a much larger opportunity to run a profitable venture.
Not only do they have to learn the garment fabric and printing technique that their brand requires, but they also have to find a supplier that offers shirts that can satisfy or even exceed the customers' expectations.
Here are some of the best American-made blank t-shirts that though plain, will get you stylin' and profilin'.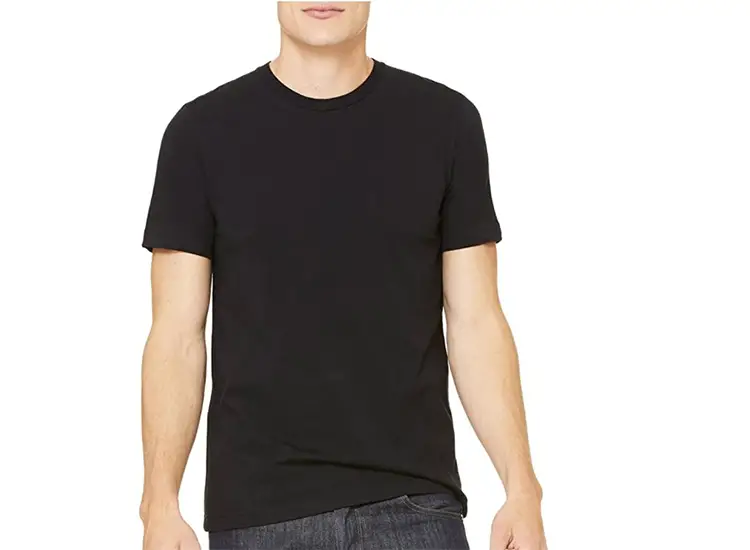 Known as one of the leading suppliers of American-made shirts for stores and clothing lines, this awesome brand helps custom t-shirt businesses provide the most durable and high-quality blank t-shirts to your customers.
Offering a range of cuts and styles for men women, teens, kids, and toddlers, their commercial-grade shirts are fully customizable and are ready for purchase at an affordable wholesale price at the customer's request.
Pros:
Includes state-of-the-art combed and ring-spun cotton that makes it great for printing.
Available in short sleeves and crew neck.
Guaranteed made in the USA, making it superiorly soft just like a well-worn favorite.
User Reviews:
Nothing makes blank t-shirts as comfortable as this brand.
From V-Necks to long sleeves, this 100% American-made garment offers fine jersey shirts and snug crew necks, ring-spun and combed to clothing perfection, resulting in a comfortable, exceptionally smooth, and lightweight blank t-shirt ideal for all of your custom screen-printing needs.
Available in different colors, you can pick a plain tee depending on your mood, the season, and the occasion.
Pros:
100% Cotton
Lightweight at about 6 oz.
Comes in a range of colors you can choose from.
User Reviews:
Suitable for both men and women, this awesome t-shirt blank made in the USA is made using the combination of polyester and combed cotton that leads to an attractively good drape and an exceptionally soft feel, making this brand a quick runaway favorite.
Its sizing fits a tad slimmer than previous models and is wonderfully light at 3.7 oz., making it ideal for styling and screen printing.
Pros:
Remarkably soft and lightweight fabric.
Beautiful gender-neutral fit.
Features a smooth and seamless collar for maximum comfort.
User Reviews:
Regarded as one of the smoothest and best-looking blank t-shirts available, this shirt's fine jersey cotton construction offers a durable neckband that stops at nothing to provide you with both functionality and comfort.
Made from 100% heavyweight cotton, its strong taped shoulders and neck provide customers with years of utmost durability.
Featuring a traditional chest pocket with a pencil divider and a long tail that makes it cool whether tucked or untucked, this sturdy, basic, and plain t-shirt can be used for both work and play.
Pros:
Machine washable at 100% cotton.
Provides a classic distinguished look.
Available in several attractive colors.
User Reviews:
Crafted with 100% combed and ring-spun cotton, this lightweight shirt of only 4.5 oz. from one of the most reputable blank t-shirt brands provides a contemporary fit with sleeves that contour to comfortably follow your arm's shape.
It features a narrow ribbed collar for a more vintage style, as well as a slightly rolled shoulder that compliments your physique.
Pros:
Its superior cut provides a better, more breathable fit.
Heavyweight and durable yet soft, smooth, and comfortable.
Unique fabric taping reinforces the neck and shoulders for additional sturdiness and endurance.
User Reviews:
By tracking down the best shirts for printing, you are one step closer to successfully creating attractive and fully customized shirts.
These respectable brands can provide you with American-made t-shirts of style and durability, without compromising your comfort and the apparel's functionality.
Conclusion
T-shirts have long been a simple, go-to outfit for our casual everyday needs.
By giving attention to its details such as style, color, and fit, this remarkably versatile and classic clothing piece will not only help you look sharp but also provide you with great comfort that just fits to a tee.