Not all clothing is made equal. Some are simply built better — to last longer.
If you're looking for clothes that will last you more than just a couple of washes, then you'll find our list below useful.
Scroll down to see our round-up of the 6 best not made in China Shirt manufacturers, to get an idea on which manufacturers don't rely on mass-manufacturing their clothing using lower-quality materials and unskilled labor.
Yogis aren't the easiest bunch of people to please. They're most likely to be the ones supporting multiple causes.
This includes fair-trade practices and sustainability, among many other things. But, this is exactly what makes Manduka special.
When yogis are obsessed with a brand, you know that they're good.
Makers of anything from yoga mats to men's, as well as women's workout clothing, Manduka uses sustainable practices and makes their apparel either in Germany or in the United States.
What really makes Manduka stand out is the quality of their apparel.
Whatever it is that Manduka made, you are guaranteed that it's made it to last. This is especially great because the brand uses GOTS-certified organic cotton, as well as GRS-certified recycled materials, which means that you're wearing and using clothing, as well as accessories, made out of recycled and sustainable materials that are built to last.
In addition to durability, Manduka's clothing, in particular, are known for their flattering and soft fit.
Manduka serves as living proof that you don't have to compromise when shifting to greener materials and practices.
With a tagline that says, "we are in business to save our home planetâ€, and a goal of becoming the world's first guilt-free fashion brand, Pact's definitely well worth being on our list just for their lofty goals alone.
But, unlike other companies who set high standards for themselves, Pact is actually meeting them.
Based in Colorado, USA, Pact's obsession with improving the world through clothing is no secret to fans of companies with sustainable practices. To achieve that goal, Pact makes their clothing in India. But, that's not all.
All apparel they make have a GOTS certification, with FTC certified organic cotton as its main material.
Outside of India, Pact also makes some of their clothes, specifically tights, and socks, in Turkey.
As for the actual comfort level, Pact's organic cotton basics might not be considered high-fashion in the eyes of many.
However, if you're looking for sustainable basics, as well as activewear, there are only a few manufacturers out there that can create something as good, for its wearer, the farmers growing the material, as well as the environment.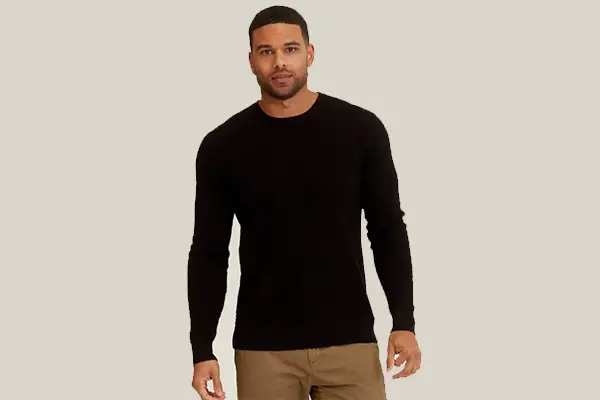 Luxury cashmere isn't hard to come by. It's finding sustainable cashmere that's somewhat impossible.
Thankfully, we've now got Naked Cashmere to supply us with our sustainable cashmere needs.
Self-proclaimed as the makers of the "most luxurious sweaters in the worldâ€, Naked Cashmere takes great pride in meticulously recording where and how they got their hands on their cashmere. This means that they pay their herders well while also educating them in sustainable, as well as cruelty-free practices.
As recently as in 2020, Naked Cashmere released the "Cashmere Reborn†collection, which is their first ever that's made out of recycled materials.
While cashmere definitely isn't something that you look for nor wear every day, you owe it to yourself to buy it from a manufacture that, not only cares about how you feel when you wear your cashmere, but where it came from.
Did you know that it takes around 1,500 gallons of water to produce an average pair of jeans?
To put that into context, the average person consumes 80 gallons of water every day. This means that the pair of jeans that you are probably wearing right now consumed nearly two weeks' worth of water to make.
That's a lot.
The reason why we're pointing it out is that the New York-based jeans manufacturer, DL961, claims that the manufacturing process of their own pair of jeans consumes only less than 10 gallons.
Founded in 2008, DL1961 has since patented the fabric known as XFIT LYRCA.
There are many reasons why DL1961 is able to keep water consumption to such a low extent.
However, one of the main reasons is they take control of each step of the manufacturing process. In addition to this, the company also uses renewable energy in its factories in Pakistan for better sustainability.
How would you feel about supporting a company that plants ten trees for every sale?
You'd no doubt support them, right?
Well, here's your chance.
The Tree Tribe uses a variety of sustainably-harvested materials in creating their products.
Case in point, they use sustainably-harvested fallen Teak leaves to create a plant-based leather known as leaf leather for their wallets.
Meanwhile, their leggings are all made from recycled plastic, while their sunglasses are made from ethically-sourced bamboo.
Buying from the Tree Tribe also lets you support Thair artists and skilled seamstresses.
With that said, if you're looking for basic men's and women's clothing, as well as other accessories, look to Tree Tribe for an affordable alternative.
Rhone are currently a Men-exclusive brand, but who knows?
With its products designed in Connecticut and warehoused in Utah, Rhone went from a small start-up in 2014 to becoming one of the go-to brands in terms of men's active wear in less than half a decade.
Because of their success, they've since branched out to create all sorts of other products.
Their signature SilverTech, for example, helps give their clothes antibacterial and anti-odorant protection.
Being that their clothes are made for activity, such a property definitely comes in handy. But, that's not all. They've also applied the same technology to their other products, including some of their more casual tees and shirts.
If you're looking for something comfortable to wear on hot days, Rhone has got you covered.
Final Thoughts
Quality shirts are an important part of anyone's wardrobe.
Unfortunately, finding a quality shirt that's not made in China isn't easy.
Thankfully, through our list, we've made the search less difficult for you.
Hopefully, you'll find our recommendations useful in your search for the best not made in China shirt.
Even if you don't end up buying the products that we recommended, you at least have a starting point that will allow you to make a better choice.