Are you looking for the best gifts that your friends or family will appreciate? We'll be taking a look at the best gifts that are made right here in the USA. Finding American made products is a lot easier than you think. A lot of people may not be so comfortable with the idea of purchasing goods that have been manufactured in China.
What you want to look for are gifts that last a long time. You also want them to be excellent in quality as well. Products made outside of the United States aren't always like this.
Whether it's for Christmas, a birthday, or an anniversary, there are plenty of good times throughout the year to purchase the perfect gift for someone. And you're bound to find something that's made right here in the USA (especially from those who handcraft these items for you).
Let's take a look at the list of gifts you (and those important people in your life) will appreciate:
If you know someone who likes to drink coffee (hot or cold) or their favorite beverage on the go, you should consider getting one of these stainless steel tumblers.
These come in various sizes, but what makes them stand out is their ability to keep drinks hot or cold for longer periods.
These tumblers come in many colors and designs. You can find tumblers with someone's favorite color or design. Or if they are a sports fan, give them one more good way to pledge their allegiance to their favorite team.
The double-walled insulation of these tumblers keeps drinks cold or hot for hours on end. This eliminates the long-standing issue of having to put ice cubes in or stick it in the microwave to reheat it. If you don't believe us, then try it out for yourself.
You'll be amazed by how a fresh cup of coffee can stay warm even after a couple hours of pouring it into the tumbler.
Pros
Comes in different colors and designs
Keeps drinks cool or warm for hours
Great for traveling or taking with you on the go
Cons
Lids or plastic shell may crack if it hits a hard surface hard enough
If you know someone who loves hot sauce, then you know that these hot sauce kits like the one offered by Bushel and Peck never go out of style.
This company is based out of Wisconsin and uses ingredients with some of them native to the Midwestern United States. The best part of having a whole slew of hot sauces is you have a lot of heat to work with.
You get a mild sauce, a few in betweens, and the spiciest of the bunch. Here are the flavors you get in the pack: fatali, sweet chilli, sriracha, Santa Fe Smoke, Mango Habanero, and Tomatillo. You get a wide variety of sauces that one of your friends or family members will like.
Who knows? They might share with you…the may not. But nothing gets a food fan's mouth watering than a nice package of hot sauces that go well with sandwiches, burgers, tacos, and more.
Pros
Plenty of tasty flavors
You get mild, medium, and spicy flavors
Perfect for various foods
Cons
Some of the sauces may be a bit too spicy than expected
Who in your family is always baking things in the kitchen? Why not get them something that has their name on it? Something they'd be proud to use in the kitchen.
The Wisconsin-based Forever Designs brand uses the ever durable Pyrex cookware, but adds that personal touch that is the cherry on top for the person who knows the kitchen like the back of their hand. These custom baking pans are perfect for brownies, cakes, and everything in between.
With custom designs, you can choose so many different themes. Of course, with the holidays around the corner you could choose a holiday theme that features a snowman and a few snowflakes to go along with it.
This is the perfect gift for a parent, grandparent, or the baking fanatic in your life that can bake cakes or cookies better than anyone else you know. You'd be hard-pressed to find something quite like this anywhere else.
Pros
Super durable
Customizable for various themes
Oven, microwave, and dishwasher safe
Cons
Some imperfections that may happen beyond the manufacturer's control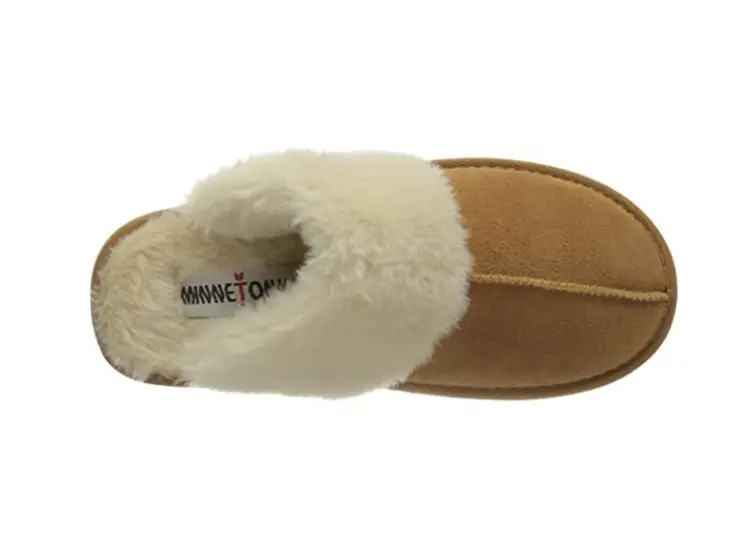 The winters are usually bitter and cold. But you'd be surprised with some of the winter clothes that can keep you warm. These Sheepskin Boot Slippers made from Minnetonka Moccasin might just be the perfect footwear for someone to wear on those cold days. These can be worn inside and are available for kids, men, and women in various sizes.
The outer part of the slipper is made from satin material and durable sheepskin. You get excellent quality and superior warmth for your feet so you can walk around the house feeling very comfortable.
Plus, no matter how much moving around you do there is no need to worry. These slippers are not that easy to rip and tear apart.
But can you wear these outdoors? Believe it or not, you can. They are durable enough to handle the cold weather outside and at least a couple inches of snow.
As long as you don't get them too dirty, they should be in good shape.
Pros
Perfect for indoor and outdoor wear
Made from durable materials
Available in various sizes
Cons
Not suitable for long-term outdoor wear
Conclusion
If you are running out of gift ideas at any time, these gifts listed above might be a good place to search for something.
Whether you are buying something for a friend on their birthday or that special someone at Christmas, you'll never run out of gift ideas.
These gifts listed above are made in the USA and are excellent in quality. Plus, they are gifts where the novelty value will never wear off.