Travel in style and with peace of mind by investing in the best luggage made in USA.
By buying this luggage, you not only guarantee getting yourself a quality product, but you're also helping employ your fellow Americans as well.
Scroll down below to find the best luggage made in the USA.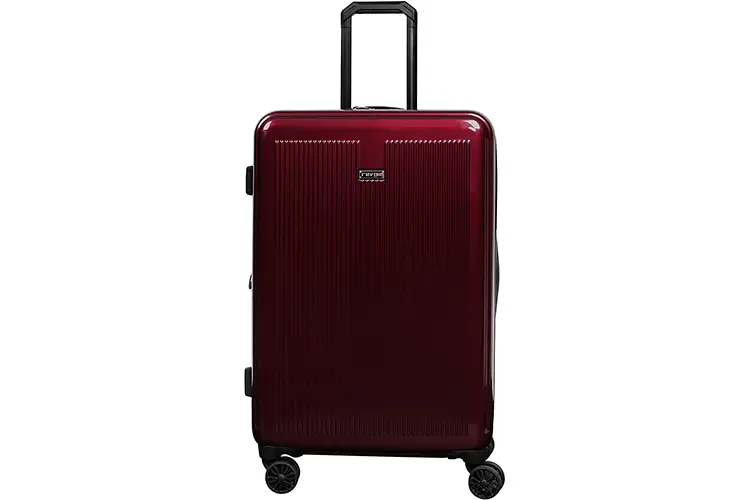 The Luna collection from Revo is a good example of quality luggage that's made in the USA.
Thanks to the company's goal of re-establishing the former glory days of the 20th century where domestic production was at its peak, the Revo Luna Expandable Hardside Spinner benefits from top-quality American craftsmanship.
For superior durability, the Luna is made out of a virgin Makrolon polycarbonate material and comes with a recessed TSA-approved lock. The multi-directional spinner wheels are smooth to pull around and the double mesh zipper compartments are compressed to take up minimal space without sacrificing storage space.
Durable and lightweight, the Luna is arguably the best luggage made in the USA.
The Luna is available in five different colors.
Pros:
Lightweight
Durable
TSA-approved lock
Smooth and maneuverable wheels
Cons:
Near-impossible to fit inside tight spaces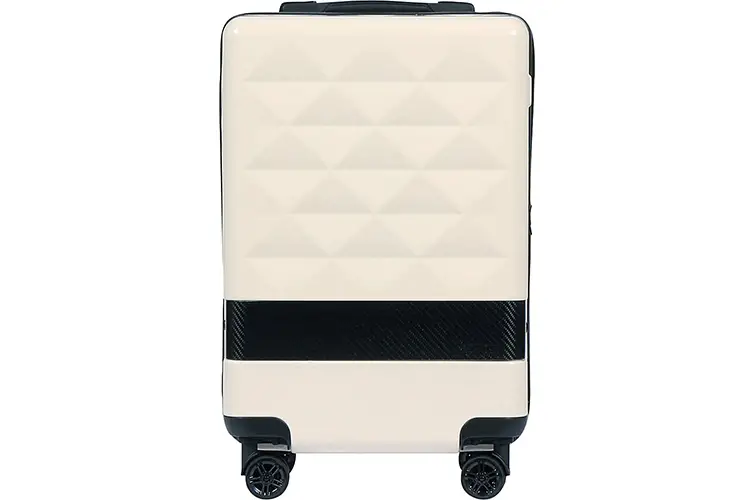 Investing in the best luggage made in the USA means that you're willing to pay the premium, and nothing says premium more than the LOMS Luggage Carry on Spinner.
This luggage is easily one of the most expensive luggage on our list. However, you are rewarded for your investment. It's made out of 100% virgin polycarbonate with a reinforced carbon fiber band for optimal durability. The diamond pattern design isn't just for show either. It helps add more structural strength to the luggage.
Contrary to its strength, the luggage is quite light in weight. You also won't feel it lugging behind you as much since the 360-degree dual casters are precision-crafted to be smooth wheeling.
As a bonus, the luggage comes with a removable garment rack.
Installed, it allows you to hang as many as 8 items. However, you can remove it if you want and get more space for other items that may fit better without the rack.
Of course, this is made in the USA. The luggage is handcrafted and assembled in American soil.
Pros:
Attractive
Smooth wheeling dual-caster wheels
Removable garment rack
Extremely durable
Cons: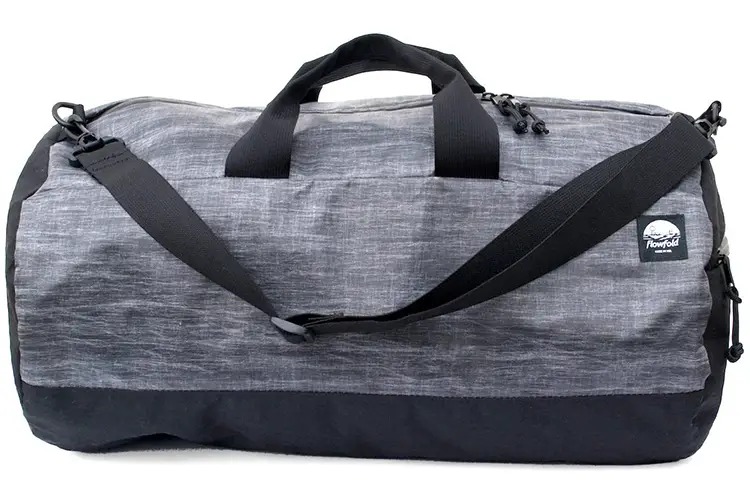 The Flowfold conducted duffle bag is the best luggage made in the USA for frequent travelers.
The duffle bag is the perfect luggage if you're on the go all the time because it weighs less than a pound. It's also made out of water-resistant fabric with waterproof zippers. This means that all of your stuff will be safe at all times, which is necessary since you'll never know what the weather will be like where you're going.
This duffle also isn't just made in the USA.
It's handmade in the United States by artists with tremendous experience and talent.
Thanks to its TSA-compliant carry-on size, you'll have no trouble carrying the duffle around wherever you are traveling. You can carry it with you with other luggage and use this as your carry-on, or you can also put it on the overhead bins as well.
Pros:
Lightweight
Water-resistant fabric with waterproof zippers
Takes up minimal space
Handmade by experts
Cons: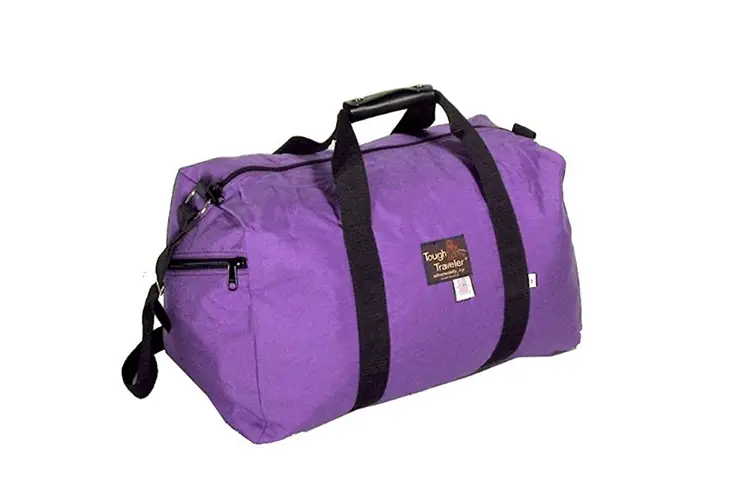 Built tough and durable, the Prestige Duffel is putting the tough in Tough Traveler.
Made in the state of New York by a company that's made high-quality luggage and other bags since 1970, it's evident on the quality of this duffel bag that the manufacturers know what they are doing.
Not only is it extremely durable, but it's also well-designed. It comes with two small organizer pockets, with the main compartment fitted with a full-length and heavy-duty YKK zipper.
The 1000D Cordura fabric is a superior material. This is further strengthened by the triple-stitching found across the stress points all over the duffle bag.
While not waterproof nor weatherproof, rest assured that this duffle bag can stand its fair share of abuse.
Pros:
Available in 7 different colors
Dual leather hand grips
Triple-stitched stress points
High-quality zippers
Cons: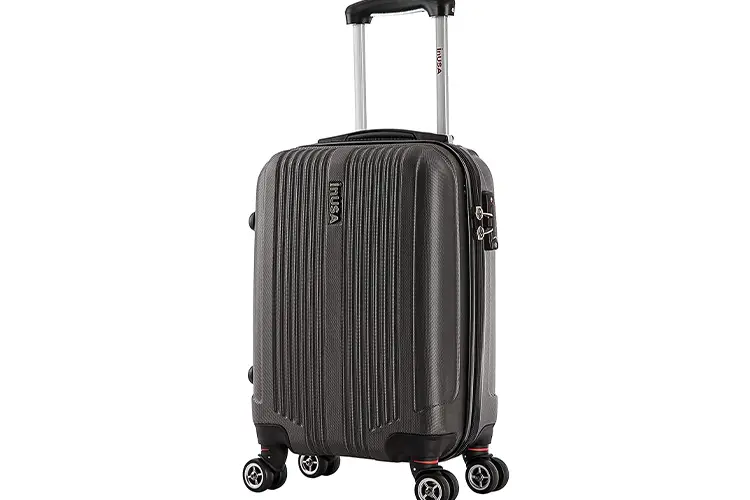 First things first, the InUSA San Francisco Carry-On Hardside Luggage might not be made in the USA in the eyes of some. It's not exactly manufactured in the United States in its entirety.
Instead, it uses imported parts and is only assembled in the United States. However, even if that is so, it should still qualify as a made in USA product.
With that said, its affordable price point and the fact that it's assembled in the USA warrants its inclusion on our list.
Costing about half of what other luggage usually would, this carry-on hard side luggage comes with everything most travelers will need.
This includes a TSA-approved lock, a fully fabric-lined interior, tie-down straps, and an ABSPC engineered material with a micro diamond finish as its exterior.
The multi-directional wheels are fairly smooth and it has four side studs that let you let the luggage stand on its sides when necessary. It also comes with a conveniently-placed inside pocket.
Pros:
Affordable
High-quality finish
Compact
Plenty of interior space
Cons:
Not good for tight spaces
Conclusion
It doesn't matter if you're a frequent traveler or someone who only travels occasionally.
You'll always need trusty luggage that you can trust to keep your stuff safe and sound throughout your flight.
Simply put, nothing but the best luggage made in the USA will do.
With that said, we've done you a favor and given you a list of all the best luggage made in the United States.
The luggage listed above is durable and made of high-quality materials. They're also rather spacious, with more than enough internal space to hold your things. They're also relatively lightweight with smooth wheels.
Of course, most important of all, they're all either made in the United States or, at the very least, assembled in the land of the free.