Sometimes, the best things in life are simple. Take, for example, a perfectly brown slice of toast.
There are not many things in life that can top the sheer joy a person feels when biting into a slice of toast.  But the thing is, despite how simple it is, not all toasters are capable of producing a high-quality toast.
Most of us have no choice but to settle for what we get. However, for those of us who will stop at nothing to get a perfect slice of toast, finding the right toaster can be a difficult task.
It can especially be more challenging when you are looking for something that is not made in China. But, then again, there's an inherent advantage to looking for the best toasters not made in China.
Toasters made and manufactured in the United States often have better quality and last longer. This is a fact. Although they come with an added premium, you can rest assured that your toaster will last longer and provide warm and crunchy toast every time you use it. You might even be able to pass it on to the grandchildren!
With that said, today, we decided to help you find the best toasters not made in China. The products we recommended below are all proudly made in the United States of America or Europe, and thus, the products boast the kind of quality, reliability, durability, and performance expected of products not made in China.
Note: All information presented in this article was given by the manufacturers, we check whenever possible, however, we encourage you to confirm with the retailer before making a purchase.
If you're not interested in reading our long-form reviews, which are based on our own experience and research, here's a quick summary of our findings:
What to look for in a Non-Chinese Toaster
There are dozens of toasters available to choose from these days. The complicated thing is to find a non-Chinese toaster brand. More than 72% of all toasters are made by Chinese companies. Now you can imagine how hard it really is to find a good non-Chinese toaster.
When it comes to buying a new toaster, there are certain factors to consider:
Toaster Settings
When it comes to toaster settings, most of us are aware of the basic settings. Choose how you like your toast, light, medium, or dark.
Most people are happy with the basic settings because this is all they need but think about the more sophisticated models or bigger toasters for commercial use. Some of these toasters offer settings like a bagel setting for example.
Pop-up Toasters vs Oven Toasters
A basic pop-up toaster for example might even include a bagel option that browns one side more than the other, but not many people are aware of these types of settings. Some toasters even include a defrost button for those times you would like to make frozen waffles.
If everyone in a household likes their toast just a little bit different, then it would be wise to get a toaster with a range of darkness settings to choose from. These are all settings that come with basic and common pop-up toasters.
When it comes to oven toasters, it is a little bit different. Oven toasters naturally come with a wider range of settings as they are bigger and need to do so much more.  Some oven toasters come with presets that can simplify your cooking process or even convection options.
Other oven toasters can even include rotisserie settings. When choosing an oven toaster, just make sure it has the toast settings you want as well.
When comparing pop-up toasters vs oven toasters, it all comes down to preference. If you are in the market for a new toaster, make sure you know what you want to use it for. The possibilities are endless!
Materials
When you are in the market for a new toaster, you need to be sure about the use of the toaster. The material of the toaster can change with the use of the toaster. You can buy toasters made in pretty much every design and color you can think of.
Do you like the modern geometric patterns look for a kitchen or are you more into a classic look? You need to match the style of your kitchen with the use of the toaster. You get toasters made with stainless steel, plastic, metal, or aluminum. The toaster you end up choosing will depend on how you want to use it.
Life Expectancy
When choosing the best non-Chinese toaster for yourself, you need to keep the toaster's life expectancy in mind. It might not always be the case that the more expensive toaster lasts the longest. The toaster's elements, build, and materials will affect both the price and life expectancy. 
You can make sure there are replacement parts available, this will prolong the life of your toaster. When you live in the USA for example, it would be for this reason to rather buy a toaster made in America.
Energy Efficiency
To save energy, it's worth checking whether you can choose how many slots to heat up at once in your chosen appliance. Only using the number of slots needed will make your toaster more efficient and help reduce uneven browning – for example, if you're only toasting one slice of bread but two slots heat up, one side will end up being browner than the other.
Toaster Size
When you consider buying a new toaster, you would obviously want to consider the size of the toaster you will need. Do you need a 4 slice toaster or a 2 slice toaster? How much counter space do you have available?
When you think about the facts, you will quickly know what to look for. Oven toasters can range from four slices to nine, so you might need this as an option. You will need to figure out the balance between what you personally want and what you can get with the space you have available and your budget.
Cost
The cost of kitchen appliances overall can be quite expensive. When it comes to the cost of a toaster, it is important to know that the type, size, and quality of the toaster will influence the price of the toaster you end up buying.
Keep in mind that a pop-up toaster can range from $40 to over $200 based on the brand and model. Countertop toaster ovens start at a higher price point, usually somewhere from $100 to over $800. American-made toasters will overall be more expensive than toasters made in China.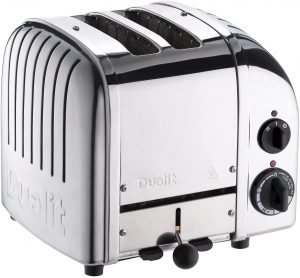 We'll be honest here, finding a toaster that is 100% not made in China was not an easy task. In fact, finding a toaster that does not contain components or is in partially assembled in China is unfortunately pretty much impossible.
Dualit, along with star manufacturing is one of the few surviving not made in china toaster brands. However, only a few models of the Dualit are still made in the U.K., of which, the classic series, the above model is part of, and is a standout.
But after diving deep into the subject, we can confidently say that the Dualit toasters are the most non-Chinese toasters on this list.
They are made in the U.K., where they have gained a cult status among toast enthusiasts (yes, they exist).
This particular model offers 4 slots, is made mostly out of steel, has 6 shade settings, bagel and defrost mode, and has a 1-year guarantee.
It's basically the Aston Martin of toasters.
Pros:
Includes a defrost setting and bagel option.
The stainless steel look gives you the opportunity to fit it in with any kitchen style of your choice.
Cons:
The toaster only has space for 2-slices at a time.
The chrome hue requires more cleaning since it will show any little finger stain.
Best For: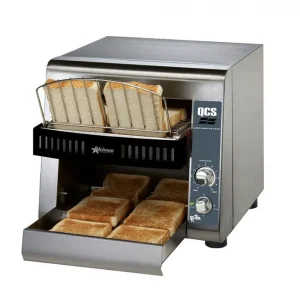 Finding a consumer toaster made outside of China was a hassle, but when it comes to commercial toasters, the selection widens.
Star manufacturing toasters are made in Smithfield, Tennesse.
The company has been operating since 1921 and never outsourced its production outside of the U.S.A.
Despite the relatively steep investment for household use, this is the kind of product that you will pass on to your grandkids. It's made of stainless steel and built to last.
Please note that this model is often hard to source, so we recommend checking their line on amazon for other options.
Pros:
Made in the USA
Made with Stainless Steel and Build to last
Will last for years and generations
Cons:
More expensive than others
Best For:
Commercial use like restaurants and hotels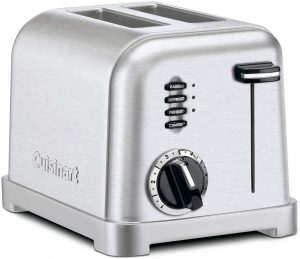 An absolute classic, the Cuisinart CPT-160P1 defrosts, reheats, and comes with a bagel function, to give you a well-performing toaster that looks great on any countertop in the kitchen, thanks to its stainless steel construction and painted black aesthetics.
The "Shade Controller Setting†of the CPT-160P1, in particular, is noteworthy. This is because it can deliver to you the kind of toasted bread just the way you want it. This includes anything from a lightly-shaded toast to a darkly-shaded toast.
The CPT-160P1 also comes with a high-left level, so you don't have to worry about finger burns when you're removing the bread from the toaster. But still, exercise caution.
Equipped with a removable crumb tray, as well as a limited three-year warranty, the CPT-160P1 is the kind of toaster that you'd want to greet you every morning.
Pros:
Multiple browning levels thanks to the "Shade Controller Settings"
It is easy to clean with its removable crumb tray
High-Lift level for safe toast removal
Fits well in any kind of kitchen countertop
Cons:
Material and make are fingerprint friendly
Doesn't alarm or notify you once the toasts are done and ready
Best For: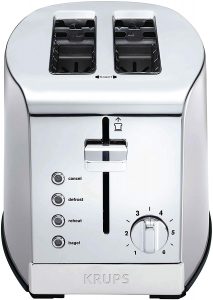 Available in 2-slice and 4-slice variants, the KRUPS KH732D50 2-Slice Toaster is one of the highest-selling toasters, and for good reason — it mixes a plethora of functions with an excellent build and aesthetics, as well as a reasonable price tag that even those looking to save money can afford.
Out of the box, the KH732D50 comes with five different functions. You can use it to toast, defrost, reheat, as well as cancel, and make bagels. It also comes with six different browning levels, so no one in the family will feel left out because they had a toast that's different from the way they want it.
Equipped with a high-lift level, the KH732D50 is safe to operate, and easy to put even the smallest of bread slices inside.
Speaking of operation, the KH732D50 comes with LED indicators to make operation easy even for those who are unfamiliar with toasters. It also has a removable crumb tray, as well as a 2-year worldwide warranty, which means that you won't have to worry about repairs or having it replaced if you decided to move somewhere else.
Pros:
Backed by a 2-year global warranty
LED indicators for easy operation
Lightweight (3.27 pounds) and compact design
Relatively affordable
Cons:
The unit has a tendency to get hotter than most toasters when toasting
Best For: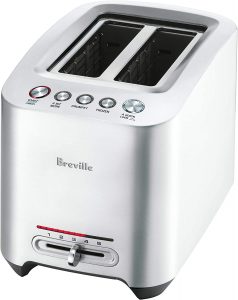 The Breville BTA820XL Smart Toaster is undoubtedly one of the best toasters not made in China.
Is it expensive? Yes. Is it heavy? Definitely. But, for the price and wight, you get a product that, out of the box, feels like it's worth every bit of the premium that you paid for it, and then some.
When it comes to toasters, it's not the "big features that make one stand out. It's the little things, or so to speak.
For starters, unlike other toasters, the BTA820XL uses a push-start button to turn on and cancel toasting. This allows you to manually control the cooking cycle of your toasted bread, just in case you feel like changing things up or want something different. Not to mention, you can also select how fast or slow your bread rises using a sliding mechanism found on the LED-lighted controls.
Do you want to sneak a peek at how well your toast is going? All you need to do is to press the "Lift & Lock†button. It even comes with a "A Bit More†button, which is pretty self-explanatory in function.
Finally, once you're finished toasting, it actually beeps and lets you know.
From the removable crumb tray to the easy-to-remove electrical cord, as well as everything else that we have mentioned and may have failed to bring up, you can clearly see why and how Breville priced this toaster.
This is easily one of the best toasters not made in China.
Pros:
Premium construction down to every nook and corner
Easy clean-up and even easier operation
Built for the modern kitchen
Intuitive settings and functions
Cons:
Best For:
Final Thoughts
As you can see, there's a toaster for everybody. Everyone has different tastes, but the fact that there is a toaster for everybody remains true, even for those who are specifically looking for only the best toasters not made in China.
With that said, here's to hoping that we have made your search a little easier. While we do believe that it is impossible to cater to everyone's specific needs and tastes, we have, at the very least, tried our best to round up a list that takes into consideration a myriad of specifications, needs, preferences, and of course, budgets.
So, what are you waiting for? Go get yourself a high-quality toaster and start enjoying your preferred brown slice of toast every morning.