There's a joke that says, "God made the world, the rest was made in Chinaâ€, and to some extent, that is true.
Due to the potential manufacturing cost savings of moving production to China, many companies have decided that producing their products out of China is in their best interests, and that number only continues to grow every year.
Unfortunately, not all American and European consumers are keen on supporting China-made products.
From concerns about unfair labor practices to simply wanting to support the local economy, many Americans and Europeans still believe in supporting American-made and European-made products.
This includes hair dryers.
Since the best hair dryers are also made by companies who manufacture other power tools, most are not made in the United States or Europe. But, there is a handful that is still made on American and European soil.
What to look for in a quality non-Chinese-made hairdryer
Most hair dryers are effective at blowing hot air toward your head. Sometimes fast too. It's the little differences between models that can make a big difference overall, particularly in daily use.
Heat and speed are the only features that matter for drying your hair efficiently. High airflow is key. When it comes to power, most stylists recommend hairdryers with around 2000 watts, as well as ones that easily allow you to switch between speed and heat levels.
Good quality hairdryers will also have the option of a cold shot button. Blowing cold air over freshly styled hair will help your look last, meaning the bounce and volume will stay put well into the evening.
Good quality non-Chinese-made hairdryers will need to provide even heat settings that dry hair evenly without damaging the hair. It should be suitable for all hair types.
With that said, we've gone on to list 4 of the best hair dryers NOT made in China.
Made in France, the Harry Josh Pro Dryer 2000 has received numerous awards over the years.
In fact, American women's beauty magazine, Allure, awarded this blow-dryer with its "Best of Beauty Award†in 2014, 2015, and 2016.
Looking at the spec sheet, it's easy to see why.
Underneath the proverbial hood of this hairdryer is 1,875 watts of power and a cool-shot button. More importantly, you can switch between using ionic heat to create ionic hair (best for sleek styles) and nonionic heat (best for volume), depending on what kind of style it is that you want to achieve. This means that this is an ionic dryer.
And, while the Harry Josh Pro Dryer 2000 isn't marketed as a portable or travel dryer, it's not exactly too large to fit inside a travel case or suitcase.
So long as the price isn't a concern, we don't see any reason why you shouldn't go for this hair-dryer.
Pros:
Most powerful dryer in its class
A/C motor estimated to last 2,000 hours
Patented ergonomic design
Cons:
Other Harry Josh Products:
HARRY JOSH PRO TOOLS – PRO DRYER 200O DIFFUSER
Proudly made in America, the Dyson Supersonic Hair Dryer is one of the most popular hair dryers in the world today, and, why wouldn't it be?
When you're partnered with Jen Atkin, who's the hairstylist of the Kardashian family, and a favorite of numerous celebrity stylists and beauty veterans such as Adel Chabbi and Linda Wells, you're definitely going to be the talk of the town.
Celebrity recommendations aren't the only reason why the Dyson Supersonic Hair Dryer though.
Fast-drying, lightweight, and equipped with a relatively quiet motor, the Dyson Supersonic Hair Dryer is a versatile tool that can be used on women who have natural hair and extensions. It can even be used in women with dyed hair and leave them with smooth, as well as shiny, hair without the color tone change.
As for safety, this blow-dryer comes with an internal thermometer that makes sure that it doesn't heat up beyond 300 degrees.
Safe and reliable, the Dyson is the best in its class for a reason, and it more than justifies its high asking price.
Pros:
Internal thermometer safety feature
Super-quiet motor
Fast drying time
Lightweight
Cons:
Other Dyson Products: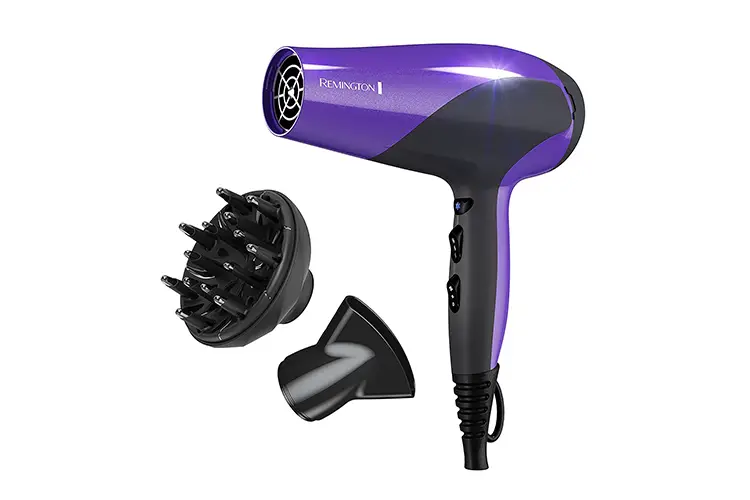 Remington Products maintains its world headquarters in Bridgeport, Connecticut, where most Remington shavers and products are manufactured for worldwide distribution. 
The company has a worldwide sales network and operations in several countries, including Canada, the United Kingdom, Australia, France, and New Zealand.
The Remington D3190 is the hairdryer that you get if you want quality without punching a hole in your wallet.
Costing pennies on the dollar compared to the premium price of the other hair dryers on our list, the D3190 is an absolute steal, not just because of how cheap it is, but because of how it comes with technologies like ionic, ceramic, and tourmaline, all at a very, very, very low price point.
The D3190 even comes with an 1875-watt motor, 3 different heat settings, and 2 different speed settings. It even comes with a cold shot button.
As an added bonus, the D3190 comes packed with a diffuser and a concentrator.
Pros:
Very affordable
Surprisingly powerful
Comes with a diffuser and concentrator attachment
Cons:
Alternatives: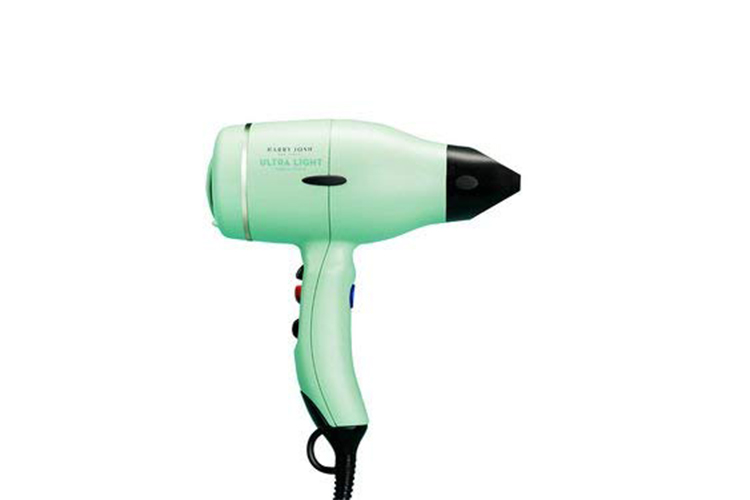 Because, apparently, the Harry Josh Pro Dryer 2000 wasn't enough, Josh decided to make something that was better in a way that it is faster and lighter.
The Harry Josh Pro Tools Ultra Light Pro Dryer weighs less than a pound, is very quiet, comes with a cord that's 11 feet, as many as 12 different speed and heat settings, as well as an ionic feature that's built-in. But, that's not all.
It can blow dry your hair at speeds of up to 94 miles per hour!
Again, it's a quiet hair dryer, so if you're sleeping with a lighter-sleeper, this is something that you and your partner will definitely love.
The only thing that you won't love, most likely, is the price.
But, you know what they say, you get what you pay for.
Pros:
Weighs less than a pound
94 miles an hour
12 different heat and speed settings
Cons:
The history of hairdryers
Hair dryers have come a long way to become the hair tools to create the smooth hair we know today. There was a time when washing your hair was seen as a perfectly acceptable excuse to decline an invitation to go out with friends. How weird! Drying your hair took a while. Sometimes it even took a few hours.
The French are known for their stylish and fashionable ways. It should not come as a shock when we tell you that they were the ones that came up with a solution that would change the hairstyling industry forever. 
The first dryers were invented in the late 19th century by Alexander F. "Beau" Godefroy in his salon in France. The first blow dryer was a large, seated version that consisted of a bonnet attached to the chimney pipe of a gas stove. Yes, we know this sounds weird!
This blow dryer was not portable or handheld. It could only be used by having the person sit underneath it.
Around 1915, it all changed. This is the year hair dryers began to go on the market in handheld form. National Stamping and Electric work under the white cross-brand, and later the U.S. Racine Universal Motor Company and the Hamilton Beach Co. created the first handheld blow dryer. Their innovation allowed dryers to be small enough to be held by hand.
These dryers were often heavy and were difficult to use. Sometimes they overheated and electrocuted people. They were more dangerous than today.  These hair dryers were only capable of using 100 watts. It took a long time to dry the hair. 
Since the 1920s, the development of hairdryers has mainly focused on improving the wattage and superficial exterior and material changes. 
The mechanism of the hairdryer has not had any significant changes since its release. One of the more important changes is that a hairdryer these days is mostly made of plastic so that it is more lightweight.
The 1950s saw the introduction of the rigid-hood hairdryer, which is the type we see in salons. It has a hard plastic helmet that wraps around the person's head. This hair dryer works similarly to the old bonnet dryer of the 1950s but at a much higher wattage.
In the 1970s, the U.S. Consumer Product Safety Commission set up guidelines that hair dryers had to meet.  These guidelines are important as they need to be met for a hairdryer to be considered safe to manufacture. Since 1991, the CPSC has mandated that all dryers must use a ground fault circuit interrupter so that hair dryers cannot electrocute a person if it gets wet.
By the year 2000, fewer than four people a year were being electrocuted by hair dryers. These days, hairdryers are faster, more efficient, and less lethal. 
You can safely use your hair dryer wherever you go! 
Final Thoughts
Anyone who tells you that you can get by without a proper blow-dryer definitely hasn't had one.
Even a cheap blow-dryer can do wonders for your hair.
However, do you really want to keep on living your life like that? Everyone, you included, deserves to have hair that has a blowout but without all of the funny stuff that's usually associated with it, like flyaways and frizz.
To achieve that flawless look, you'll need nothing but the best hair dryers not made in China.
Made by companies who've invested time and money to keep their manufacturing process in countries where their products are subject to much higher scrutiny and standards, these 4 are some of the best hair dryers not made in China.
Whether you blow-dry every day for a living, or simply use it to dry your curly hair or straighten your hair for certain occasions, these hair dryers will not fail you. You will look professional, and stylish all at the same time!