There are some things that you're always better off with than without.
Extra cash, insurance, savings, and of course, a trusty pocket knife.
Pocket knives are an indispensable tool that can and will come in handy more often than you'd care to admit.
Whether it's for opening envelopes and packages or for defending yourself if need be, a pocket knife is a literal lifesaver, which is why we recommend that you keep one with your person at all times.
But, of course, since we believe in supporting the local economy, and the fact that the best pocket knives are made in the United States, we also recommend that you only buy the best American made pocket knives.
With that said, here's our round-up of the best American made pocket knives you can buy today.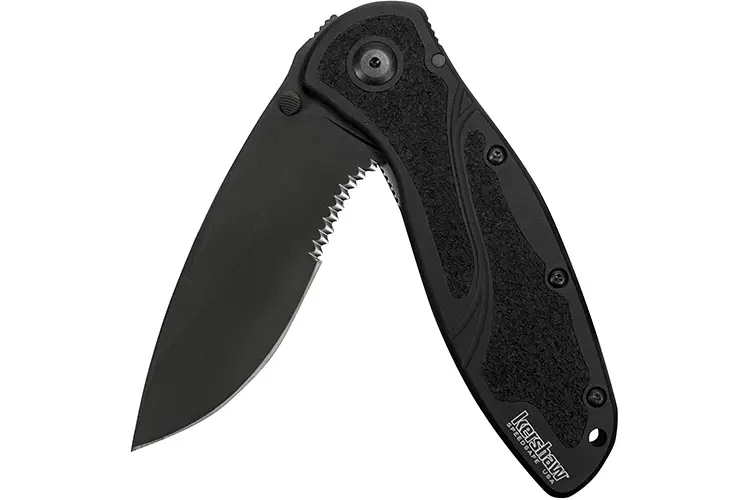 Kershaw might not be one of the biggest knife manufacturers in America, but they've gained quite the following over the years, and for good reason — their knives are good.
The Blur, in particular, was designed by Ken Onion as a minimalist everyday carry.
A single-blade folder, the Blur comes with a 3-4inch blade with a clip that you can change if you want the knife to either tip-down or tip-up, or as a left or right carry.
It's equipped with a Sandvik 14C28N steel drop point blade too with a serrated edge, because, you know, you'll never know when it might come in handy.
Featuring the SpeedSafe assisted technology, the Blur opens quickly and because of its slim profit, can easily be concealed if need be.
It's a great everyday utility knife that you'll almost always forget you're carrying around because of how light and how slim it is.
Pros:
Lightweight and slim
Easy to sharpen
SpeedSafe assisted opening
Reasonably-priced
Cons:
The steel doesn't hold an edge quite as well compared to other pocket knives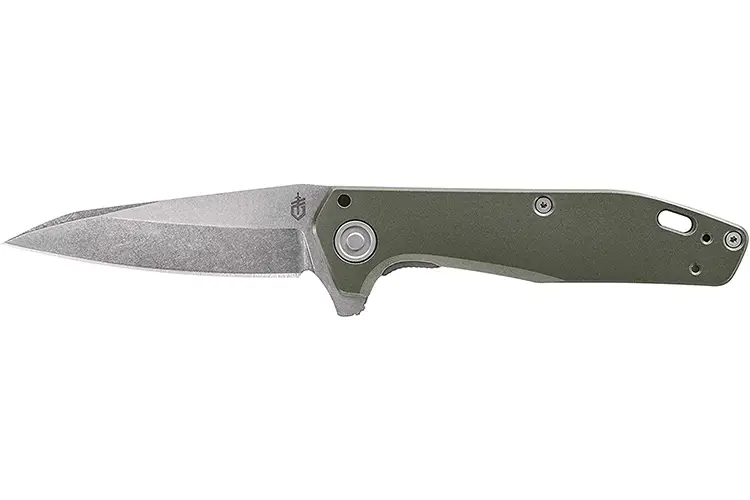 Gerber is a well-known knife manufacturer based in Portland, Oregon, which is also where the Fastball is made.
This American made pocket knife comes with a 3-inch S30V Wharncliffe blade that's been coated with black oxide for a more tactical look while improving its resistance against corrosion and helping minimize friction as well.
The easy-off Liner Lock release and its ball bearings, which Gerber has named, Balls of Stainless Steel, both work together for a smooth and easy deployment, even with one hand.
The added removable, three-position pocket clip then helps guarantee that you can safely and proficiently use the Fastball with either hand.
Pros:
Ideal shape and blade size
Beautiful tactical aesthetics
Made out of high-quality materials
Cons:
Detent might be a little too strong for some people's tastes
Some things are just so perfectly designed from the get-go that there's really no use trying to change things.
A good example of that is the Buck 110 Folding Hunting knife.
The Model 110 is one of the longest-running production knives in the world — yes, the world, and not just for Buck — with some 15 million knives having already been sold since the first ones came out of the factory back in 1964.
You could argue that the Model 110 is the reason why people think Buck when you speak of American hunting knives.
An iconic knife, the revolutionary folding design was what paved the way for the pocket knives that we see today.
In particular, it was the reliable locking system that guaranteed that the blade would close, even when under heavy work, that helped raise the bar for other pocket knives to come.
At this point, the Model 110 is the standard-bearer of American made pocket knives, if not pocket knives in general.
Pros:
Timeless and iconic design
Comes with a high-quality protective leather sheath with a snap fastener for easier and stylish carrying
Stainless steel clip point blade is resistant to corrosion and retains the edge quite well
High-quality yet sustainably-sourced materials
Cons:
Many argue that the recent Model 110 productions aren't the same quality as the older ones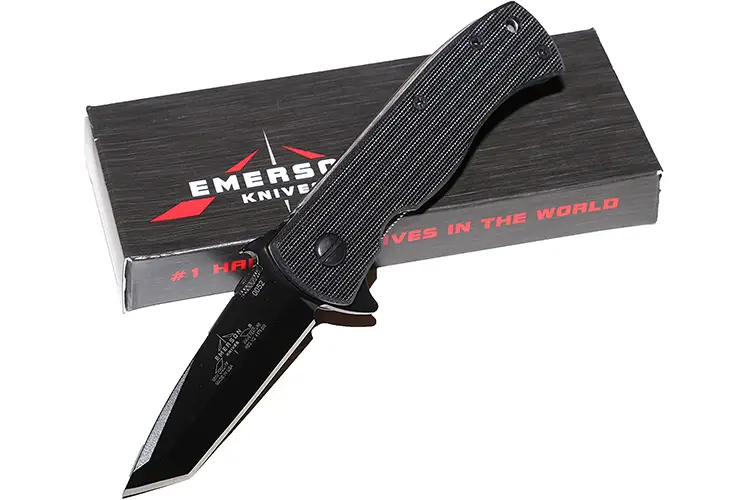 Speaking of the best American made pocket knives, we'd be remiss if we forgot to mention Emerson Knives' CQC-7.
One of the most highly-praised pocket knives in the world, the CQC-7 is arguably the best knife in Emerson Knives' line-up.
It's essentially a smaller version of their iconic Flipper 7 knife, which means that it's pretty much near-impossible to beat up, thanks to its titanium lock and its 154cm Tanto-style blade.
Using high-quality materials and excellent build quality aren't the only reasons why the CQC-7 stands out though.
Another reason why the CQC-7 is a must-buy is because of the Wave feature from Emerson.
Because of this design choice, the CQC-7 flips and deploys in what's practically the blink of an eye. If you practice a bit, you could probably open the CQC-7 faster than you could most automatic blades, and that's all without ripping a hole or wounding yourself with it still inside your pockets.
Pros:
Near-bulletproof
Wave features make for near-instant deployment
Very portable
Cons:
Limited availability
Pricey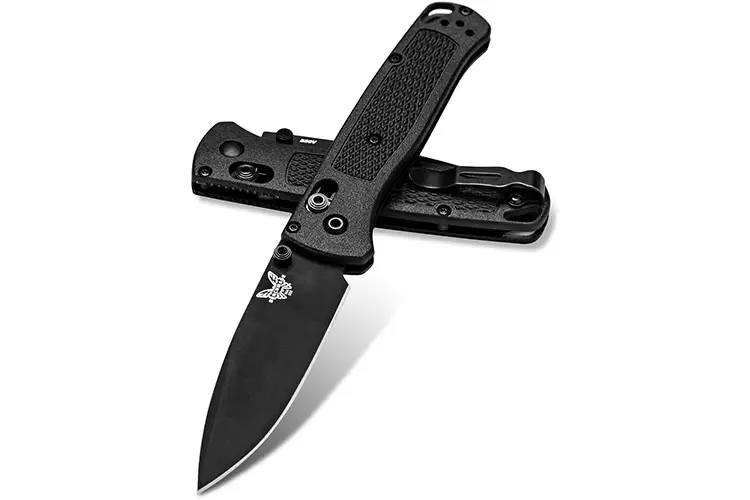 Camp-ready everyday carry knives don't really come around often, which is exactly what makes the Benchmade Bugout 535 so special.
Blacked out in its entirety for a sleek and more tactical look, this upgraded version of the Bugout 535 comes with a CF-Elite handle for added stiffness while also reducing weight. At the same time, it retains the same highly-praised S30V steel, as well as the deep-carry pocket clip that's reversible for easier carrying.
At just 1.8 ounces with a 3.25-inch long blade, the Bugout 535 and its .09-inch blade is the perfect knife for self-defense, camp-use, and other emergencies.
Pros:
Easy one-hand operation
Discreet and deep mini pocket clip
Extremely lightweight
Backed by a limited lifetime warranty service
Cons:
Thin blade might lack the strength for more heavy-duty uses
Final Thoughts
Now that you have one of the best American made pocket knives, it's time that you learn how to take care of it.
Proper care and maintenance is arguably more important than the kind of pocket knife that you buy.
This is why it's important to invest in a quality knife sharpener, or sharpening steel or stone. But, if you don't have the time, nor the acumen for it, professional sharpeners can do it for you for a fee.
In addition to sharpening the knife to keep the edge, you'll also want to clean it every now and then with soap and water, rinsing and drying it out carefully before using it again.
Make sure that you get any kind of dust, dirt, or grit out using a bristle brush so that they don't cause long-term damage. This is especially true if they get stuck in the locking or folding mechanics of your pocket knife.
You can also use quality household oil for added protection to prevent corrosion, as well as to help lubricate the moving parts of the blade and the blade itself.