Finding any kind of toy that's not made in China is not easy. This is especially true for dolls. However, if you look hard enough, you'll find the best dolls not made in China.
Unfortunately, not everyone has the time available to put in the work necessary to find such deals.
With that said, we've decided to have your work cut out for you.
Below, you'll find the best dolls not made in China that's more likely to meet set product safety standards and are safer for your baby, toddler, and/or child, to play with.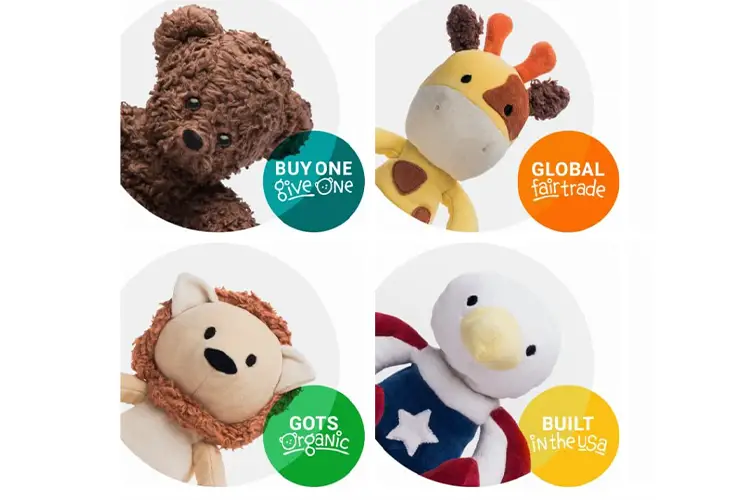 Organic and adorable is a combination of words that you don't really find often, but somehow, Bears for Humanity have managed to accomplish this.
Designing and manufacturing their line of plush toys in the U.S, Bears for Humanity is committed to using only materials and following practices that meet Global Organic Textile Standards.
In addition to this, Bears for Humanity is also committed to multiple charitable causes.
For starters, they're partners with multiple charitable institutions. They help provide plush toys for kids, especially those in foster homes. Also, they help create jobs for the local economy. In particular, in Northern California, where Bears for Humanity provides jobs for at-risk parents and caregivers.
If you're looking to buy one of the best dolls not made in China while also supporting a good cause, look no further than Bears for Humanity.
Pros:
GOTS-certified materials and manufacturing practices
Made in U.S.A
High-quality plush toys
Cons:
Limited designs to choose from
Egyptian cotton fibers are widely considered as one of the best quality materials on the market.
This is mostly because of their softness and strength. The length of the fabric helps as well.
This is because it leads to a stronger fabric with a higher thread count. And, while you don't often find Egyptian cotton used in toys, Under the Nile took full advantage of this fact.
Every one of Under the Nile's products, including their dolls, are made out of 100% Egyptian Cotton.
More importantly, no chemicals were used in manufacturing their products. This means you won't have to worry about BPA, lead, and/or other harmful chemicals.
Pros:
Extremely soft and comfortable
Made out of 100% GOTS-certified Egyptian Cotton
The first baby clothing company in the U.S to be certified by GOTS
Cons: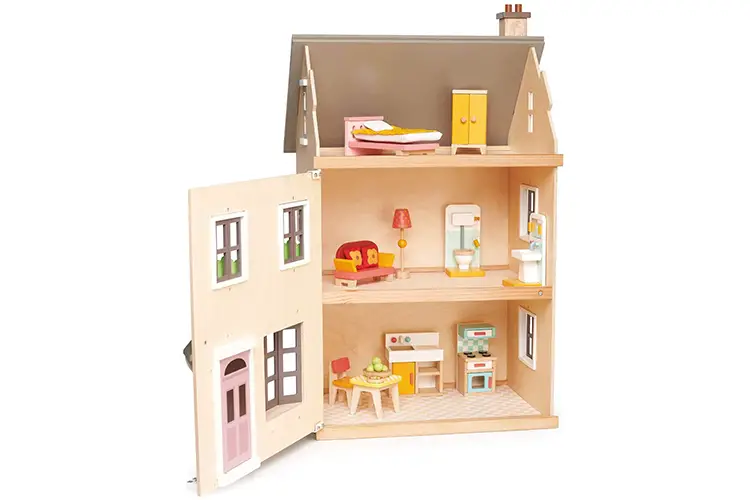 Forget about dolls, let's talk about dollhouses.
The Tender Leaf Toys Foxtail Villa is a thing of beauty and will surely be the highlight of any kid as soon as he or she receives it as a gift.
Yes, we said he or she because it's a gender-neutral dollhouse.
The portable dollhouse encourages creative thinking and independent play, allowing toddlers, preschoolers, and older children, to fully exercise their imagination using a dollhouse made out of a chemical-free and eco-friendly toy.
More importantly, the Tender Leaf Toys Foxtail Villa is not made in China. Instead, it's made in Indonesia, with it being designed in Great Britain.
Pros:
Gender-neutral design
Encourages free-thinking and independent, imaginative play
Made out of renewable rubber tree wood
Cons: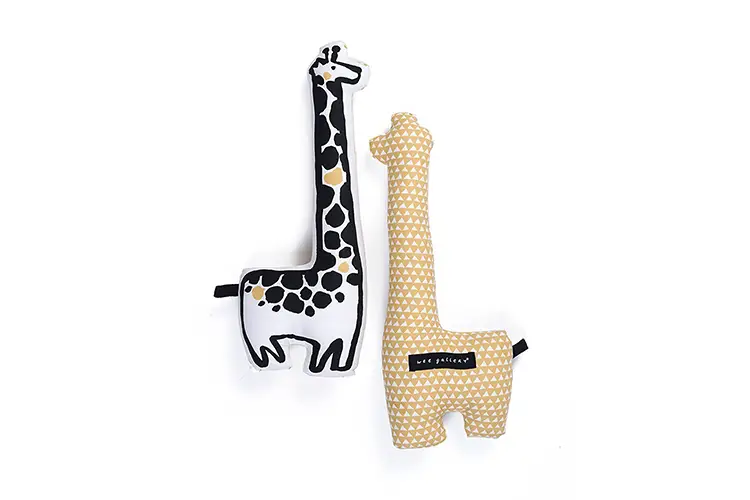 Are you looking for the best first soft and cuddly toy for your child? Then you might want to give the Wee Gallery Throw Pillow a look.
Available in a variety of designs, the Throw Pillow from Wee Gallery is made out of a soft and comfortable organic cotton that's GOTS certified.
However, what really sets the Throw Pillow apart is that it's easy to carry around everywhere. This makes it perfect as your baby's first doll friend since he or she can easily carry it anywhere, whether it's on the bed, the stroller, the car, and more.
If you want to make your baby feel more comfortable and secure, this organic baby toy is the ideal keepsake for their childhood.
Pros:
Soft and cuddly
GOTS-certified
Made in India
Cons: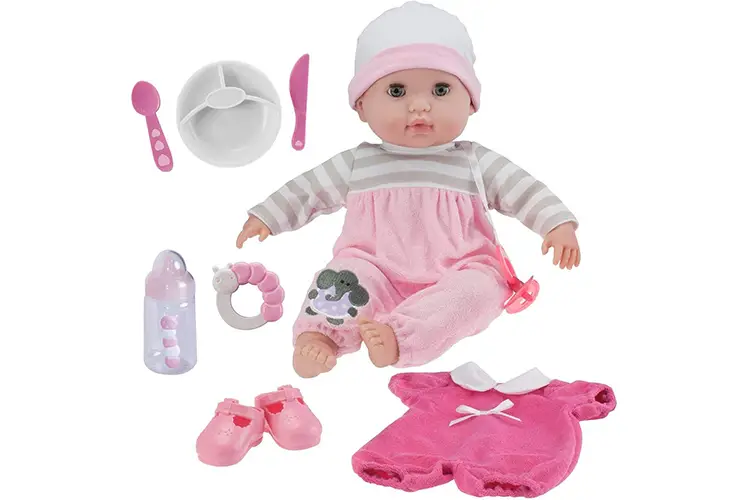 When you've been designing something for over a decade, then there's clearly something good with what you're doing.
A good example of this is Salvador Berenguer.
The man responsible for giving birth to the Berenguer Boutique line of Soft Body Baby Dolls from JC Toys, these dolls' life-like looks and features are because of the sheer dedication of its maker to his craft.
In fact, there's so much detail in each doll that they're actually correct in terms of anatomy. Not to mention, they come with soft vinyl skin, and even baby wrinkles.
What makes these baby dolls so awesome is that they come with a lot of accessories, with plenty more available for purchase.
Also, because they measure 15-inches, they're just at the right size for kids to hug and cuddle and not too big to be hard for them to carry around wherever they go.
As your child's first "friendâ€, it's hard to do any better than this soft body baby doll.
Pros:
Made in Spain
Designed in Spain by Salvador Berenguer
Life-like and anatomically correct
Comes with plenty of accessories
Cons:
Babies might not take a liking to such a realistic-looking doll without going through a long adjustment period
Final Thoughts
There are a lot of reasons why you should buy your son or daughter a doll. They play an important role in their growth. Not just because kids are used to having them, but they encourage imaginative play.
Also, pretend play by letting your child take on roles or even take care of the doll itself, can help teach your child how to be nurturing and caring.
Of course, while dolls for children are great, do make sure that it's not made in China.
This helps guarantee that you're getting a quality product and that you're supporting people who are actually passionate about what they do.
Thankfully, because of our list of the top 5 best dolls not made in China, finding the right one will be fairly easy for you from now on.