For women, nothing says like giving yourself a treat than buying yourself a handbag.
At the same time, however, the issue with handbags today is that they're not exactly made where you think they are. Worse still is if it's made under conditions that are not exactly what you'd call humane and fair, with the workers responsible for making the handbag not being compensated well for their efforts.
This is a common problem with handbags made in China, which is why we've decided to focus on handbags that are NOT made in China.
What is the quality of Chinese handbags?
So, we are focusing on handbags not made in China, but what is the quality of bags made in China? How do these bags compare to eachother?
When you buy a luxury handbag from Italy or America, and a well-known brand, you will be investing in a handbag that you may one day want to resell. 
You will find a lot of handbags sold as knock-offs off popular brands that is manufactured in China. These knock-off handbags may look a lot like the real Italian-made bags, but they lack quality.
Manufacturing of handbags in China is done on large scale for a lot less money. These manufacturers goals are to make money and workers get paid a lot less in wages.
Although, fake producers have gotten really good at mimicking the outside of the popular luxury bags. It is important that when purchasing bags, clutches, wallets or purses, that you make sure they are the real thing.
A lot of the well-known, luxury brands will have their own signature markings on their products.
Below, you'll find a list of all of the best handbags not made in China.
Usually, the issue with handbags not made in China is the price. Because the makers have to adhere to certain workplace regulations and standards, they have to pay their workers fair wages. This means that the bags they make usually cost more, but that's not necessarily the case with Dasein.
Birthed in 2008 by the California-based fashion accessories retailer, La Vani Inc., Dasein prides itself in creating bags that are as stylish and fashionable as designer bags but without the price tag.
Dasein is proudly made in the USA and their products all fall below the $50 price point without making any compromise in style, craftsmanship, and quality, including this tote work bag.
If you're looking for a bargain of a gorgeous handbag, this is it.
As an added bonus, the bag looks a lot like the "Birkin Bag†from Hermes, and it also comes in a number of textures, as well as colors, giving you multiple options to choose from or a chance to own the same bag in many different colors.
Pros:
Bargain pricing
Gorgeous and luxurious style
Durable
Made out of high-quality vegan leather material
Cons:
The vinyl/plastic interiors found in some handbags can feel cheap and smell weird
Other Dasein Handbag option:
The Diana Tote from Melie Bianco is easily one of the best handbags not made in China based on its versatility alone.
It's not just a handbag. Rather, it's a three-in-one bag.
This means that you're actually getting three different bags for the price of one.
For example, you get a bonus zippered pouch that comes with a clip that you attach to the main bag. You also get another slightly larger pouch that can transform into a small cross-body purse by simply getting the detachable strap and attaching it to the bag.
Other noteworthy features include a magnetic closure, as well as handwoven handles.
Pros:
PU vegan leather interior and exterior
Three bags in one
Lots of compartments and storage options
Cons: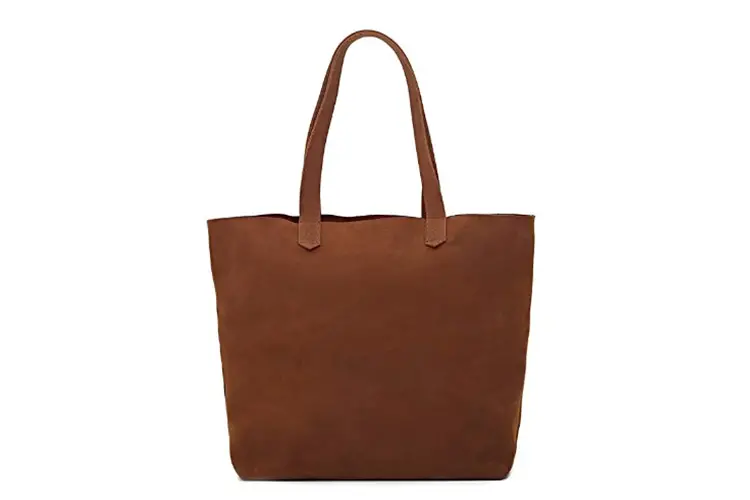 Handmade in Peru, the Nisolo Lori Tote Bag is a heaven-sent for ladies who are looking for either a nubuck leather or suede leather handbag that's not made in China but, at the same time, is fairly priced and has its fair share of storage options.
The Lori is available in three different color options, namely, Nutmeg, Oak, and Sand.
Regardless of which of the three you end up getting, you'll be treated to a tote bag with sizable dimensions (19†x 13†x 7â€), an easy-to-access inside pocket, and the kind of soft leather that will only look better with age.
Pros:
Leather material will only look better as time goes by
Soft and sturdy material
Built to take a beating
Cons:
Might be too large for some people
Ultimately, we couldn't decide on just one handbag design so we decided to go with the company itself.
To give you a little background, The Little Market is a part of the Fair Trade Federation as an independent and nonprofit member.
The goal of the company is to make sure that artisans are fairly pad for their work while giving them an international audience and marketplace to sell their crafts to.
Because of this, the majority of the products sold by The Little Market are handcrafted by artisans at home.
While we would love to recommend the beach totes, which are perfect for weekend getaways, the rest of the product line of The Little Market aren't half-bad either.
If you'd like to support individual artisans while getting your hands on some of the best handbags not made in China, The Little Market is the place that you go shopping for your handbags for.
Pros:
Fair Trade Federation member
Handcrafted
Supports individual artisans to help give them a sustainable means of income
Cons:
Designs aren't exactly fit for formal wear
J.W. Hulme describes their handbags as "never stuffy†and "always stylishâ€, which is an apt description.
The makers of high-quality American leather handbags have established themselves as the prime choice for handmade and well-crafted handbags that are designed to last for a lifetime. But, while all of their handbags are worthy of a purchase, it's the Hugo Flap Bag that stands out as the best choice.
Available in nine different dye finishes, the Huge Flap Bag can be used for both formal events and everyday chores.
For the latter, it comes with an interior and exterior pockets, which means that it has multiple storage options. It also uses tough brass closures to hold itself together. In addition to this, a lockable closure helps add security. You can also have your bag personalized with an embossed monogram of your choice without any additional charge.
Pros:
Dyed using old-fashioned and tested techniques for a more natural appearance
Available in 9 different dye colors
Multiple interior and exterior options
Cons:
The History of the Handbag
Handbags are not a new invention. Humans always needed bags to carry goods in. 
Since thousands of years ago, humans have been using bundles and pouches made from fibers to store and transport food and tools in. Before the invention of the handbag, women carried all their necessities in pockets. 
Men's pockets form part of their trousers, but unlike men's pockets, a woman's pockets were an entirely separate garment. Women's pockets were worn around the waist under their skirts. This lasted a few decades.
Before the modern handbag existed, the reticule existed. The reticule was a small bag, only large enough to carry rouge, powder, a fan, perfume, and a few visiting cards. Women started carrying them whenever they went out. 
At the end of the nineteenth century and the beginning of the twentieth, larger bags began to replace the reticule. The larger bags were then made by luggage creators like Louis Vuitton. This was the start of the modern "handbags."
These days, most bags are made with materials such as leather, recycled materials, or vegan materials. Leather bags and leather goods are becoming more and more popular.
Final Thoughts
It's true that the makers of the most popular designer bags have since moved their production to China. However, that's not necessarily true for all the noteworthy handbags that are available out there on the market.
With that said, our list of recommendations for the best handbags not made in China should come in handy in that regard.
Not only do these companies make their products outside of China, but most if not all of them follow and enforce strict labor guidelines for their employees. This means that their employees are treated and compensated well for their work done.
Additionally, this helps guarantee the quality of their products. At the same time, it helps clear your conscience of whether or not your bag is being made by an underpaid minor somewhere out there in the world.
So, what are you waiting for? Invest in these best handbags not made in China today and start supporting companies who are trying to make a difference.