If you are a coffee enthusiast, you would know how a change in brewing methods leads to a difference in the taste of the coffee.
Among numerous coffee brewing methods is the French Press that swirls your coffee grounds in boiling water before you push down the plunger to pour it in your mug.
While buying a French Press, one of the many things that you should consider is where it's coming from. There are a lot of Chinese French Press available on the market that sell like hotcakes.
They're typically cheap to buy hence a favorite among coffee lovers but they're not worth it. Cheap models do not last long and end up costing you more in the long-run. Plus, they also do not offer a very good taste.
If you want to enjoy good returns and taste, then get your hands on French press not made in China. Since coffee is an international drink, companies all around the world make coffee machines.
In this article, we will take a look at some of the best French Press not made in China, so you get a product that fulfills its purpose and is also worth the price tag attached to it.
Let's get started:
Features:
Made in: Switzerland
Weight: 1.46 pounds
Dimensions: 5.3 x 7.7 x 11.8 inches
Capacity: 1 litre / 34 ounce
Bodum is one of the most popular coffee makers in the world.
From what we can see, a large number of its products are made in Europe including Switzerland and Denmark. Look at the packaging before you make a purchase to be sure.
This French Press has a brewing time of four minutes and it works in only three steps.
It can make 8 cups of coffee at a time, each of 4 oz.
The 3-part plunger is made of shiny, stainless steel and has a mesh filter that effectively extracts the flavor. It also comes with a durable safety lid that prevents spillage. We're sure you're going to love the taste.
The glass, plunger, and filter are dishwasher safe leading to easy cleaning. The black polypropylene handle has a matte finish, which not only has a comfortable grip but is also aesthetically pleasing.
Pros:
Comes with a 1-year limited warranty
Versatile and can prepare tea as well
Excellent taste
Very durable design
Cons:
The plastic filter has a California Proposition 65 cancer warning
Very thin, fragile glass
The Bodum Chambord French Press Coffee Maker, 1 Liter, 34 Ounce, Chrome is among the best French Press not made in China. It is suitable for beginners and is easy to use.
Features:
Made in: England
Weight: 2 pounds
Dimensions: 4 x 4 x 7 inches
Capacity: 2 pint
This is a neutral-toned French Press that is handcrafted from locally sourced, high-quality clay, in the United Kingdom. The color tone and design fit well with the interior of any place, making it pleasing to the eye.
This beauty isn't like other coffee makers. It's very unique in appearance and performance.
It has a glossy and non-porous surface that does a good job. The glaze on the French Press increases its durability, thus lessening the chances of chipping.
We love the handcrafted 'roulette' design on it. Plus, it's microwave, oven, and freezer safe. Just make sure to remove the plunger before you put it in the oven.
Some users believe that this coffee machine not made in China doesn't require a filter, however, we suggest that you use a mesh filter with it.
Pros:
Looks good and can be left on the table
Serves as a jug or vase after the removal of the plunger
Easy to manage as it is dishwasher safe – only use liquid detergent
Cons:
Slightly heavy at 2 pounds
Liquid dribbles from the spout upon pouring
The Denby USA Natural Canvas Textured French Press is one of the best French Press not made in China due to its timeless, classic look and high durability.
Features:
Made in: USA
Weight: 1.8 pounds
Dimensions: 5.5 x 5.5 x 8 inches
Capacity: 17 ounce
It is a double-wall stainless steel French Press with a 2 stage filter system, which can also act as an insulated serving pitcher, as it retains heat 4x longer than glass.
The dual-screen of the French Press is patented, leading to zero sediments, and has an outside mirror finish and an inside brushed finish. It uses both a top-quality mesh filter and a pre-filter to get the job done.
The handle is of a full length, making it easier to hold the machine.
The entire system disassembles for a safe wash in the dishwasher.
Pros:
Comes with a 5-year warranty
100% stainless steel, no plastic anywhere
Perfect for hot as well as cold beverages
The no-drip spout makes it perfect for beginners
Cons:
Metallic taste in coffee
Not sturdy
The Frieling USA Double Wall Stainless Steel French Press Coffee Maker with Zero Sediment Dual Screen, Polished, 17-Ounce has made it to the list of the best French Press not made in China because of its heat-retaining double-wall insulated body and lid.
It's perfect for travelers as you will not have to worry about warming your drink every now and then.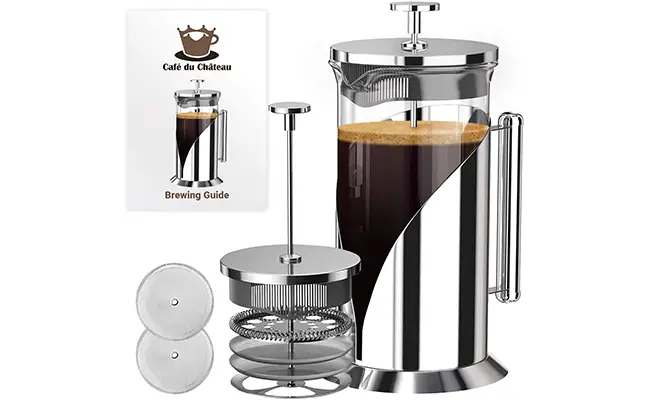 Features:
Made in: USA
Weight: 1.98 pounds
Dimensions: 5 x 5 x 5 inches
Capacity: 34 ounce
Get your hands on this beauty if you are looking for a coffee machine not made in China that works without electricity.
French Press Coffee Maker has a four-layer filtration system, including double stainless steel screen filters, a solid plunger, a spring-loaded base plate, and a top lid strainer. You will not have to worry about adding filters as the built-in system is highly reliable.
It meets FDA requirements and is safe to use.
The coffee maker does not catch rust and is highly durable. However, what we liked the most about this machine is the flavor it offers.
It is known to protect your coffee from grounds, making the perfect brew every single time. However, we felt that the taste is not very consistent.
While it is a great product, remember that the company produces some of its units in China, so it is crucial to research beforehand.
Pros:
Comes with a lifetime replacement guarantee
Four level filtration system is efficient
Highly durable machine
Comes with a detailed instruction guide
Cons:
The handle is not soldered but epoxied hence making it dangerous
Not everyone may like the thin glass
The French Press Coffee Maker – 4 Level Filtration System – 304 Grade Stainless Steel – Heat Resistant Borosilicate Glass by Cafe du Chateau (34 Ounce) holds a position among the best French Press not made in China due to its lifetime guarantee. Get your hands on it if you want a machine that's made to run for years.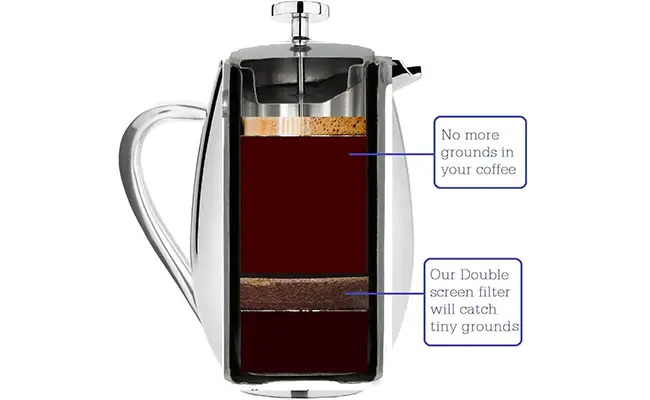 Features:
Made in: USA
Weight: n/a
Dimensions: n/a
Capacity: 34 ounce
This French Press comes with a measurement scoop and two free reusable stainless steel screen filters. This bundle makes it worth the price tag attached to it.
The screen filter ensures you do not have to worry about grounds in your cup of freshly brewed coffee, giving you a premium coffee experience.
All individual parts of the French Press can be disassembled, reassembled, and washed in the dishwasher, saving you the hassle of cleanup. Moreover, they are also labeled as unbreakable and rust-resistant due to the high-quality steel used.
We love the hit it offers, everything from taste to aroma is perfect.
Pros:
Very affordable and offers good value for your money
Easy to wash as it is dishwasher safe
Works very quickly and can be used for tea
Durable and looks good
Cons:
Not safe to handle when hot
The 34oz French Press Coffee Maker Stainless Steel Double Wall Brushed Cafetiere Cup Made in USA! Highest Quality! Blowout Prices! Fast Ship is one of the best French Press not made in China. It comes with a bunch of freebies and can help you save time as it's among the fastest coffee makers out there.
Features:
Made in: Europe
Weight: 1.05 pounds
Dimensions: 3.5 x 2.5 x 6 inches
Capacity: 11.8 ounce
This French Press has a chrome housing, glass beaker made of Borosilicate, a heavy gauge rod, and a French Press filter. It is a mini, personal coffee maker that usually makes one cup, which takes around 3 to 4 minutes to be made.
According to the company, it's best for Kona coffee but can prepare other drinks as well.
This beauty doubles as a stainless teapot due to its attractive design and heat retaining properties. Moreover, it can also be used to make a cold brew.
Pros:
Quality glass with an elegant chrome finish
Brings out the best coffee flavor
Available in multiple sizes
Replacement pieces are easily available
Cons:
Becomes rusty and corrodes over time
Not everyone may like the curved handle
The GROSCHE Madrid French Press Coffee Maker can be a great pick for those looking to quickly get their hands on a hot cup of coffee. It's among the best French Press not made in China due to its low price tag and creative design.
Features:
Made in: Japan
Weight: 13.6 ounces
Dimensions: 4.37 x 6.89 x 3.58 inches
Capacity: 2 cups
Hario, meaning 'King of Glass' in Japanese, is a Japanese French Press Coffee Plunger that makes 2 cups of coffee, almost 300 ml at a time, in three steps.
You need to pour down hot water, add tea leaves or coffee grounds in it, and press down the filter to enjoy your perfect cup of brew. It does not offer a very strong taste and is best suited for people who are not into strong flavors.
It contains a heat resistant glass and a lid-holder shaft filter set of stainless steel. Thanks to these, the machine is able to keep your drink hot for hours.
Pros:
Brews about two cups
Heat resistant glass
No plastic parts
Cons:
The glass is fragile
Cheap plunger steel
The Hario Coffee Plunger (2 cups) is one of the best French Press not made in China as it makes a small amount of coffee, thus preserving its flavor and aroma.
Features:
Made in: Taiwan
Weight: 1.5 pounds
Dimensions: 5 x 3.5 x 7 inches
Capacity: 10 ounces
This French Press can be used both for coffee and tea and is made up of heat resistant, easy to clean borosilicate glass.
It is made up of stainless steel with a chrome handle and trim. This gives it an exquisite yet trendy look. It is the choice of many for brewing tea or coffee at home with a sturdy base and an easy-to-use plunge and lid. Moreover, its small size makes it portable as it can easily fit in your luggage.
Pros:
Available in two sizes – 2 cups and 6 cups
Very durable design
Affordable coffee maker not made in China
Modern design with a sturdy base
Cons:
The glass does not stay in the metal band at the bottom of the press unless you compress it
The Yama Glass 2 Cup Coffee/Tea French Press (10oz) can be a great pick for those looking for a not made in China French press that is easy to travel with.
Best French Press Not Made in China: Conclusion
These were some of the best coffee makers not made in China.
Make sure to get your hands on a product that fits all your requirements and offers a taste that you enjoy.