You know you're getting right up there in age when you start to appreciate some fine set of dinnerware.
But, then again, why wouldn't you?
While it's perfectly fine to be eating out of any bowl or plate that you can find when you're a bit younger, once you start getting older and have your priorities straightened out, it's always wise to invest in things that last, which is what quality dinnerware is.
With that said, we've decided to round up some of the best dinnerware not made in China available today.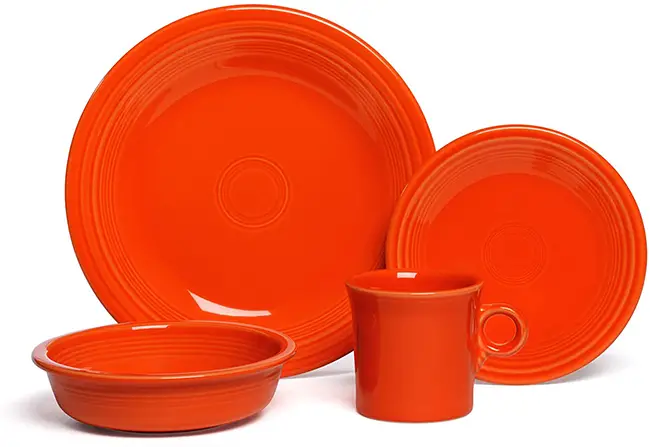 When a brand has a cult following of sorts that's been around for years, it's usually a good sign.
Fiesta is one of those US brands that have such a following.
Manufactured and marketed by the Homer Laughlin China Company of Newell, West Virginia since 1936, the Fiesta line of dinnerware has long held a reputation for its quality and timeless design.
The vitrified ceramic body and lead-free glaze remain just as good as it was decades ago as they are today. Also, as expected, the dinnerware are safe for oven use, as well as use in the dishwasher and microwave. Finally, as a testament to its durability and quality, each set comes with a 5-year chip resistance warranty.
What really sets the Fiesta dinnerware, otherwise affectionately referred to as "Fiestaware†by its fans, is that it comes in multiple colors that remain vivid and vibrant for years.
Just a fair warning. Fiesta has a reputation for discontinuing certain colors. So, if you're very particular about sticking to a particular color, you might want to cop as many as you can afford. Otherwise, you might end up having to mix-and-match it with other colors. Although that's not exactly a bad idea since the different colors tend to pair up quite well.
All in all, the Fiestaware line is the closest to being the perfect dinnerware, which makes them an easy choice in our round-up for the best dinnerware not made in China.
Pros:
Incredible resistance to chips and cracks
Available in countless and often limited colors
Free from lead and cadmium
Backed by a 5-year chip resistance warranty
Cons:
Might be too heavy for casual use
Pricey


Formerly made in England, Wedgwood has since moved the manufacturing of their dinnerware to Indonesia. But, despite the movie, Wedgwood has retained the quality and elegance that has made them famous over the years, and the Wedgwood White 5-Piece Place Setting is a good example of this.
Whereas other dinnerware is too elegant and capricious to be used every day, these aren't.
Make no mistake, the dinnerware will impress anyone, guests, and family alike. At the same time, the design makes it so that it's not hard to maintain. So long as you're not careless, these should look just as good years later as they did when you first bought them.
Made out of fine bone china, the five-piece place setting also comes in a four-place setting set. You can also purchase other pieces individually, from mugs and cereal bowls to large platters and bowls.
For people who prefer to stick to a particular design and/or brand, this is great news since, as long as the budget allows it, you can pretty much stock your entire dinnerware with this and be done with it.
Ultimately, the only flaw that we think worth mentioning about this dinnerware is how thinner it is compared to other "quality†dinnerware.
Considering the material it's made from and what's going on, it is perfectly understandable. However, those who are not used to thin dinnerware might mistake its thinness for the lack of quality.
Pros:
Simple yet elegant design
Durable enough to withstand daily use
Thin and light
Cons:
A little bit too thin for most people's tastes
Expensive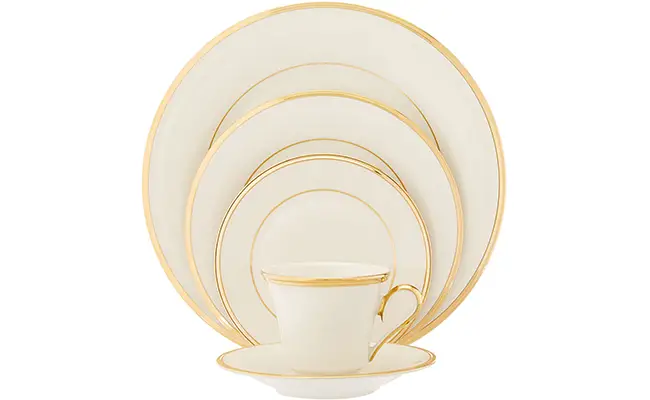 If we haven't already established it by now, then you should already know that we're huge fans of the phrase, "we eat with our eyes first.â€
Sure, our stomachs might be the ones that get full, and our mouths may be the ones who do the chewing but let's face it, if the dinnerware isn't as lovely, we're not really as excited to dig in and take a bite.
Luckily, the Lenox Eternal set is the sort of dinnerware that will make you and your guests want to eat as soon as possible.
Made out of ivory bone china, this choir resistant and dishwasher safe dinnerware that's also made in the USA has 24-karat gold accents along its borders, adding a timeless and classic look that transcends generations.
Unfortunately, because of this gold accents, you might want to think twice about just haphazardly throwing it into the dishwasher.
Although Lenox claims that they're safe for dishwasher use, the gold bands may fade over time. But, if it's any consolation, it is still covered by the Lenox Lifetime Breakage Replacement Program.
The program basically means that you can replace any broken dinnerware at any time.
With that said, we do recommend these pretty plate settings for daily use and formal occasions, as well as for decor.
Pros:
Gold-banded rims make for a timeless and classic design
Backed by an extensive lifetime replacement policy
Available in matching server ware
Cons:
Compared to other dinnerware, the plates might be a bit larger and can look out of place on a smaller table


If you're looking to add a pop of color to your usual table setting for a change of pace, then look no further than what Bauer Pottery has to offer you.
Bauer Pottery has handmade dinnerware in Los Angeles, California since 1910.
Their dinnerware, although unconventional, comes in all sorts of colors and sizes. This makes them perfect for those who want to mix-and-match. But, at the same time, you can also just buy them in a single color, in case you're the sort to color coordinate everything inside your home.
As for quality, nothing really beats handmade stuff.
Every piece of dinnerware made by Bauer Pottery was made using hand-pressed earthenware clay that they fired in a kiln and glazed by hand before firing it up again.
With as many as 18 different colors to choose from, the dinnerware selection of Bauer Pottery isn't just durable and built to last. They're also quite stylish and fun too, making them an excellent option for people who want to try out something new.
Pros:
Handmade
More than a dozen color options available
Plenty of matching server ware and other pottery to choose from
Cons:
You can only buy pieces individually
Final Thoughts
As you can see, not every fine piece of china, or so to speak, is not made in China.
Although a bit more expensive than your usual dinnerware, we guarantee that the dinnerware on our list will make you look forward to every meal even more. Not to mention, think about all of the compliments that you're going to get from your guests.
In addition to that, they're built to last an entire lifetime, so they're an investment well worth making.
Besides, by investing in the best dinnerware not made in China, you'll be making sure that your eyes are as full as your stomach all the time.