Security cameras have been developed into handy tools that help households and business owners keep a watchful eye on what's going on at their place of work or home.
Technological advancements have made it easier for security camera manufacturers to come up with products that are easy to set up and deliver better features. Let's talk about the best security cameras that are not made in China.
To be completly transparent, it was really hard to find security cameras not made in China. As is the case with toasters, it's very hard not to include components, such as chips, that are made in China. United states made cameras in particular are hard to source, as these are mostly reserved for government agencies.
Therefore, as is the case with all our articles, we urge you to make your own due diligence.
It's not a simple process to select the right security cameras for your application. So, before you buy anything, make sure to identify where you want to place the cameras and whether you want them to work with platforms like Apple's Home or Amazon's Alexa.
Above all, keep your budget in mind. Some products come in bundles and others come on their own. Either way, you have plenty of options to choose from.
To make your life easier, we've come up with the following best smart security cameras available for residential and commercial use.
All these products offer reasonable prices, flexibility, and great design. Besides, most of these security systems work with popular home platforms.
If you're in the market looking for best, not-made-in-China security camera, here are some great options that have earned solid reviews from users and critic: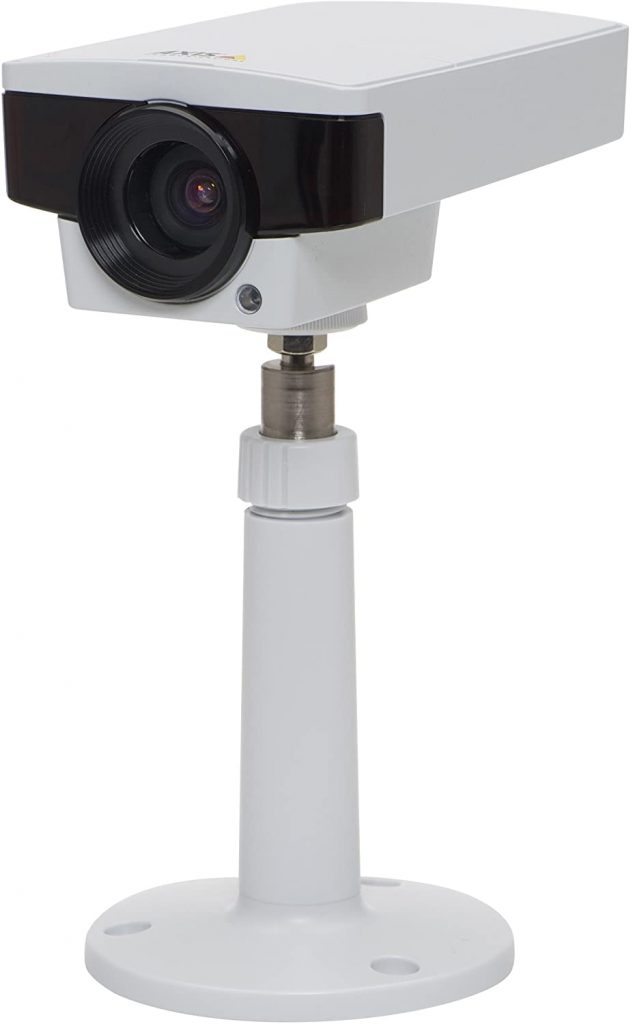 If you're a frequent reader of our blog, you might have noticed that it is surprisingly difficult to get manufacturers to admit whether or not their products are made in China.
It's so hard, that we can't 100% guarantee that some products on our lists aren't at least partially made in China.
However, when it comes to security cameras, we can confidently say that Axis produces the most non-Chinese-made security cams.
Their production lines are in Sweden and Thailand, and since 2018 they haven't sourced any components from China for products not sold in China.
This is what the company had to say in 2017:
Today we have very few globally available models manufactured by global EMS partners located in China. Going forward the plan is to use EMS partners located in China only for products dedicated for the Chinese market.

Beginning 2018 we expect this to be fully implemented.
Please note: Axis communications still makes a few models that are directed to the Chinese market. If you buy one of these, they will be made in China.
When it comes to the M1145-L, it's definitely not your entry level cam. It packs some serious image quality, with a resolution of 1080p. It has a night mode and built-in LEDs.
It's very easy to set up, with the standard screw mount.
Overall, a solid camera that won't be contributing to the Chinese regime and that will keep your data safe.
Pros:
Great image quality
Easy to set-up
Cons:
Comparable Product: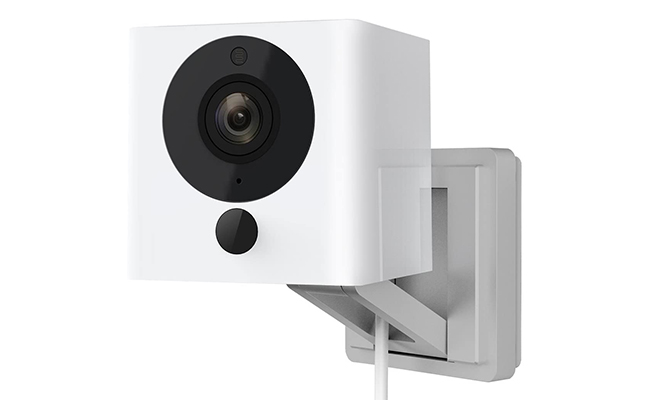 Wyze Cam is probably the best option if you're in the market looking for a decidedly affordable security system for indoor applications.
With the price is well below $30, this cam comes with a simple and sleek design that can sit anywhere. You can't get a product like this at this price.
Surprisingly, the cam supports 1080 full HD resolution despite the low price. You can perform both video and audio recordings.
The night mode allows you to see the video footage recorded in the dark. While Wyze's camera works with Alexa, you can use a MicroSD card to store your content away from the cloud.
Type: Indoor
Features: 
Night vision
Motion tagging
Detection settings and zones
1080p HD
Wireless
Made in: Seattle with components from China
Its important to note that Wyze doesn't have a perfect track record when it comes to data management.
Pros:
Affordable price
Powerful color night vision
Indoor and outdoor capabilities
Cons:
Wired power cord
Special power source for outdoor operation
Customer Rating on Amazon: 4.3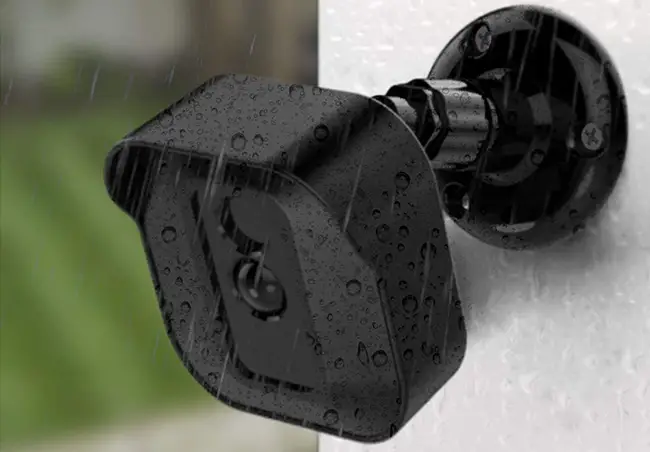 Blink offers a variety of ultra-affordable and battery-powered surveillance cameras.
However, XT2 is the best option for customers looking for a mix of features and value. You can use this system for both indoor and outdoor applications.
Blink XT2 supports 1080 full HD resolution and works with Amazon Alexa for smart home use. It enables two-way audio to talk to people captured on the camera. A customizable motion detection system allows you to track movement outside or in a room.
In addition, the cam works both during the day and night. On top of this, you don't need any tools or wires to set the cam up.
Price: $99
Type: Indoor/outdoor
Features: 
Night vision
Amazon Alexa integration
Two-year battery life
1080p HD video
Indoor/outdoor
Wireless
 Temperature sensor
Pros:
Good video quality
Wireless mounting
Cons:
Real-time view sometimes fails
Are Blink Security Cameras made in China?
Amazon recently bought the wireless security company, Blink. Amazon is a USA-based company and with that, Blink camera devices are manufactured in the United States.
Customer Rating on Amazon: 4.3
Google's Nest Cam is an incredible indoor security system, which comes with a more expensive price tag than the others in our list of best security cameras not made in China. Nest Cam has an attractive design. You can mount it on both walls and on flat surfaces.
While Nest Cam is a wired system, it offers 1080p full HD resolution. It can be used at night as the cam has a night vision feature. Also, Nest Cam works with a range of applications such as Apple's Home. You can set the preferences in either the mobile app or the desktop interface to get sound/motion alerts from the cam.
Price: $99
Type: Indoor
Features: 
Impressive Night vision
Amazon Alexa integration
60-second setup
1080p HD video quality
Programmable with Nest Protect and Nest Thermostat
Pros:
Great video quality during both day-time and night-time
Very easy-to-set up
Integrated cloud recording service
Cons:
No SD card or any other local storage support
Wi-Fi only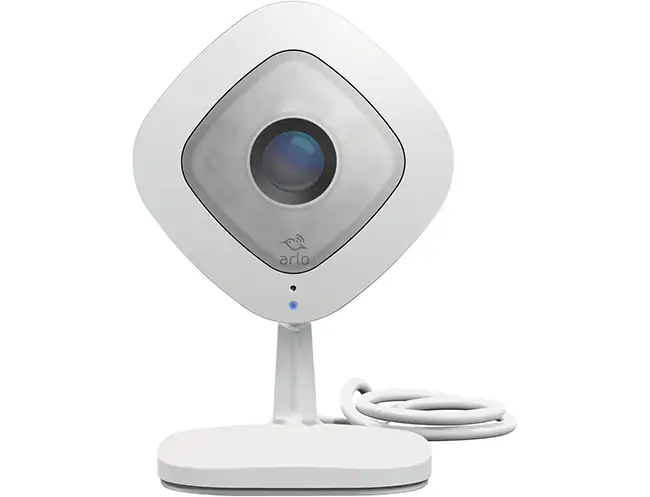 We can't say Arlo Q is one of the most latest security cameras, but it has its own unique features. Compact and smart design makes Arlo Q an attractive and reliable security cam. The Arlo Q is an HD cam that enables you to see and hear everything happening at your premises in great detail.
Other prominent features of Arlo Q include two-way audio, night vision, 7-day free cloud recording, motion alert, effortless setup, and activity zones. These features make sure you never miss a moment again. The robust build quality and overall usability of this cam make it a good choice for anyone looking to protect their property.
Price: $117.41
Type: Indoor/wired
Features: 
Night vision
2-way audio
24/7 cloud recording
1080p HD
Works with Alexa
Made mostly in Vietnam and Indonesia, as per their 10k form.
Pros:
Easy to set up
Detailed HD images
Good night vision
Cons: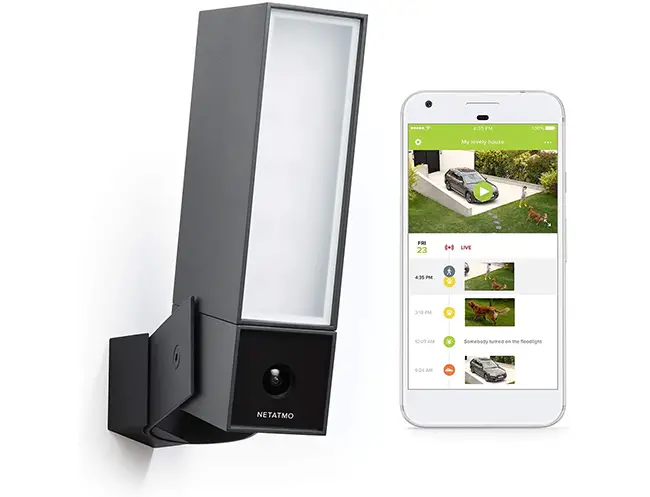 If you're looking for something more sophisticated and expensive, Netatmo Presence is a great option for outdoor use. Its camera-floodlight combo clearly justifies its premium price.
While the cam is designed to carry out 24/7 surveillance in high definition, it functions as a security light whenever it detects motion. This product costs twice as much as some of its competitors. However, you only pay once; there's no subscription fee.
Netatmo Presence has the functionality to differentiate between different objects: a person, a car, or an animal. This means you would be able to set more specific alerts.
If you're concerned about aesthetics, you might have to use your creativity to figure out where the cam will create a harmonious look.
However, Netatmo Presence will make its presence felt and make burglars think twice before doing anything inappropriate on your property. 
Price: $290.56
Features: 
Smart LED floodlight
Infrared Night vision
Free video storage
Easy second setup
1080p Full HD
4 MP video sensor
Weatherproof/ HZO protection
Pros:
Advanced motion detection recognizes animals, cars, and people
Sharp 1080p video
Local video storage
Cons:
Expensive
Installation requires some wiring knowledge
When it comes to selecting the best security cameras for your home or business, you have to sacrifice some features to get something that meets your needs.
However, Vivint Outdoor Camera Pro is a different product in a way that it comes in a package that integrates with your Vivint system.
The product allows you to zoom in images and videos and still maintain small details. Vivint Pro helps you prevent break-ins by automatically warning lurkers. You only recieve an alert and recording when the cam detects people, not other objects or animals.
Price: $399 (installation included)
Features:
4k sensor
Two-way audio
Smart sentry
True night vision
Lurker detection
HD + wide angle
Waterproof
Pros:
Sharp 1080p video
4K HDR sensor
Smart Sentry lurker detection
Cons:
The origin of today's security cameras
The first documented use of video surveillance was in Soviet Russia during the Stalin era. In 1927, a Russian scientist named Léon Theremin invented a wireless system that connected the video camera and television together. This was used for national security reasons to watch visitors coming to the Kremlin in Moscow. 
In 1942, around 15 years after the Soviets created the first CCTV system, the Nazis created one of their own. Siemens AG built the system in 1942 for the airfield at Peenemunde, Germany. They used this to monitor the launch of V-2 rockets. 
Today, we take for granted that all security cameras can record video, but before the 1970s, there wasn't an easy way to do this. Recording security footage involved magnetic tape reels that weren't easy to work with.
Although the technology behind modern digital cameras was a product of the 1970s VCRs, it wasn't until the late 1990s that it started appearing in mainstream camera products like security cameras for the average business or home.
Security cameras will get more advanced as time passes, they will most likely be built into smart homes. We are already starting to see this in some parts of the world.