China manufactures some of the most popular smartphones available today. But just because it's the manufacturing hub of choice by the likes of Apple for their uber-popular iPhone, doesn't mean that all smartphones come from China.
In fact, there are a lot of smartphones that are manufactured outside of China.
Some of them are even as popular as the Apple iPhone.
These said smartphones are manufactured in countries such as South Korea, India, Taiwan, and Japan, among others.
Also, in case it's not obvious yet, all of these non-China smartphones run on Android.
With that said, if, for whatever reason, you're looking for a non-China phone, then you've come to the right place.
Below, you'll find a list of the 4 best smartphones NOT made in China.
The latest in the long line of Samsung Galaxy S series smartphones, the Samsung Galaxy S20 series was only formally announced earlier this year. It was then subsequently made available worldwide just a couple of months later.
The Samsung Galaxy S20 is available in three different variants.
The first one is the S20, which weighs 163 grams and measures 5.97 inches x 2.72 inches x 0.31 inches.
Next is the S20+, which weighs around 186-188 grams and measures 6.37 inches x 2.90 inches x 0.31 inches.
The third and last is the S20 Ultra, which is the largest and heaviest among the three at 222 grams. It has measurements of 6.57 inches x 2.99 inches x 0.35 inches.
The flagship model is the Samsung Galaxy S20 Ultra. The phone is considered as the best 5G device available on the market today. However, if you're not willing to pay the premium for it, the S20 Plus is more affordable. It's also nearly just as good. It also has the same 5G support as well.
It's also worth keeping in mind that while the standard S20 model also supports 5G networks, it doesn't have support for the same high-band millimeter-wave networks.
Under the hood, the Samsung Galaxy S20 series is befitting of the Galaxy S name.
The phones are equipped with three rear cameras capable of recording 8K videos at 24fps, as well as an IP68 rating.
Other features include Bluetooth 5, WiFi 6, and a battery capacity of anywhere between 4,000mAh to 5,000mAh, depending on the model.
Truly, this line of phones is one of the best smartphones out there.
If you're looking for a flagship phone to last you well into the current decade, the S20 series should be right up your alley.
Pros:
Comes with an ergonomic and attractive design
5G ready
Battery life that can truly last you an entire day
Bright and smooth 120Hz display
Cons:
Base model comes with a high asking price, with other models only becoming more expensive, even for a flagship phone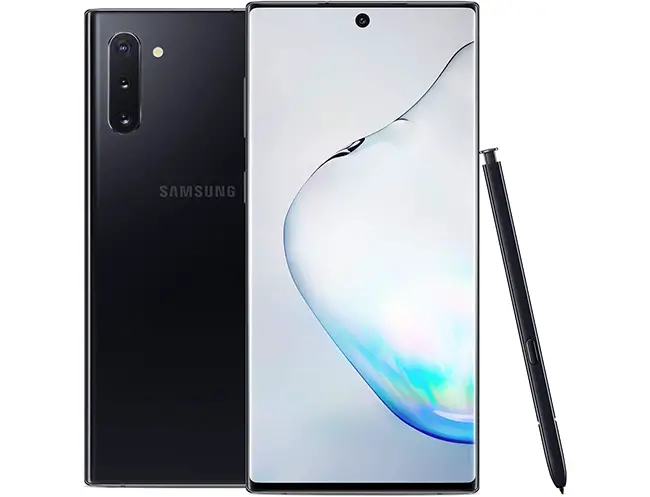 The Galaxy Note smartphones have long been considered as the bigger and often badder brothers of the Galaxy S series smartphones. The Note 10 is no exception.
A follow-up to the widely successful Note 9, the Note 10 is an improvement in every way. Although it does away with the headphone jack completely, everything else is simply better.
Case in point, it comes with the snappy Qualcomm Snapdragon 855 processor, starts at 8GB of RAM with microSD support, a quad-camera system on its rear, and a 3,500 mAh battery capacity.
The hardware only tells part of the story though. The Note 10 is so much more functional as well. This is thanks to a wide assortment of convenience features. This includes Samsung DeX for easy linking to an external monitor, as well as a link to the Windows button for quick controls. It can even charge other smartphones, as well as electronic devices, in a pinch.
If, in case, the base Note 10 isn't enough for you, there's also the Note 10 Plus, which is more expensive but comes with more ram (12GB vs 8GB), and internal storage (256GB), among others.
The only caveat to buying the Note 10 right now is the Note 20 is set to release in a few month's time. But, then again, for bargain hunters, this also means that there's no better time to score a great deal on the Note 10 than today.
Pros:
Surprisingly compact despite its humungous display
S Pen performance remains top-notch
Solid camera performance with excellent software support
Fast-charging for people who are always on the go
Cons:
You'll be needing to use the fast-charging feature often than you'd like because of the surprisingly lackluster battery life
From the more expensive flagship phones, we now go to the mid-range offerings.
The LG Stylo 5 comes at less than half of most flagship phones. However, it is no slouch.
The Stylo 5 is powered by the Qualcomm Snapdragon SDM450 with 3GB of RAM and comes with a capable 13MP rear camera, as well as a 5MP front-facing camera. The 6.2-inch Full HD display boasts a resolution of 2160 x 1080 and it supports up to 2TB of storage space via the microSD slot.
Perhaps more importantly, it comes with the well-reviewed Precise Stylus Pen that's conveniently located on the bottom of the phone.
As an added bonus, the Amazon-exclusive version has the virtual AI assistant, Alexa, built into it. This means that you can use Alexa to answer any and all of your questions, as well as provide you with all of the updates you need, all at the touch of the button.
For speedy note-taking on the cheap, the LG Stylo 5 is an excellent compromise.
Pros:
One of the few smartphones on the market that still has a headphone jack
Reasonably priced
Surprising performance from its built-in stylus
Cons:
Performance can feel sluggish at times, which will only get worse as time passes
Gaming phones, in general, are a niche product. They have a long history of failing to meet expectations, both from the public and its manufacturers. However, given that Asus gave the ROG phone a sequel, it's safe to say that they were more than satisfied with what they saw from its launch.
Manufactured in Taiwan by one of the biggest computer hardware manufacturers in the world, the ROG Phone II lives up to the "gaming smartphone†monicker.
Case in point, the ROG Phone II was one of the first smartphones in the market to sport a 120Hz refresh rate display, which the manufacturers paired with its 6.59-inch screen. It also comes with a 12GB RAM, as well as a whopping 512GB or 1TB internal storage capacity right out of the box. Of course, because it's built for performance, it's powered by the Snapdragon 855 Plus processor.
Asus also gave the ROG Phone II two front-facing stereo speakers, a 6,000mAh battery, as well as vibration-support for a more immersive gameplay experience. It is also designed to charge on its side, so you can continue playing even when you're tethered to a charger.
As an added bonus, Asus completes the ROG Phone II with a "gamer†aesthetic that's topped off with rear ROG logo lights with customizable colors. You can even opt to buy additional gaming accessories.
While Asus built the ROG Phone II for gaming, it is still a premium smartphone, and to that end, it delivers. It's even equipped with a 24MP front-facing camera with a 48MP + 13MP wide-angle Sony IMX586 sensor cameras on its rear.
Pros:
The best gaming smartphone that you can buy on the market today
Gorgeous OLED display with 120Hz refresh rate
Comes with a wide assortment of ports
Storage and battery life for days
Cons:
The aggressive, gaming-centric design won't appeal to everyone
Camera performance could be better for the price
Final Thoughts
There you have it, the 4 best smartphones NOT made in China.
As you can see, these 4 are no joke. They're arguably just as good if not better than other China-made phones. Even when compared to the widely popular Apple iPhone, these phones belong in the conversation as one of the best out there.
With that said, our list just goes to show that not everything is made in China these days.