American brands are no longer the same. More and more are starting to move out of their homeland and moving their manufacturing to other countries. One of the first to make the transition was eye wear companies.
In recent times, however, the eye wear industry in the USA is starting to make a comeback.
While other companies never left the USA, there are a handful that popped up in recent years to offer American-made eyeglasses to those looking for them.
We'll be featuring such brands below.
Scroll down to find the 5 best eyeglasses made in USA.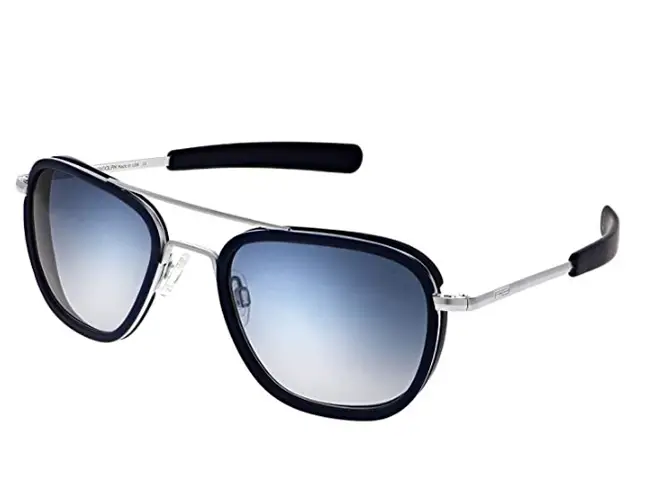 Kicking off our list is an absolute classic.
The Randolph Fusion Classic Aviator Sunglasses is as American as any US-made eyeglass can be.
In fact, these are the same sunglasses that Tom Cruise wore in the 2017 film, "American Made".
But even though many treat this as a classic, there are some differences. Or, rather, improvements. Because this is an upgraded version, it now comes with anti-reflective properties, as well as UVA and UVB protection.
Of course, protection is just a bonus at this point (although a welcome one at that), it's the looks and quality that people pay for.
To that end, this certainly delivers.
With a classic aviator style that fits just about everyone, these sunglasses are guaranteed for life. They come with a lifetime warranty and are built to meet the same military standards that the company has always followed for decades.
Pros:
Lifetime warranty
Classic, versatile aviator style
Built to meet the highest military standards
Cons: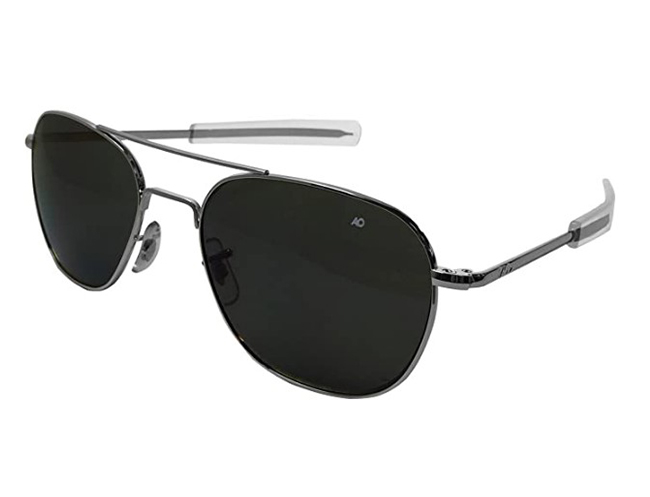 If the Randolph Fusion Classic Aviator Glasses are a bit too pricey for you, the American Optical Original Pilot Sunglasses is an excellent alternative.
American Optical has built a solid reputation as a maker of high-quality eyewear for more than a century. The Original Pilot sunglasses, in particular, are extremely popular, especially among their namesake, military pilots.
The silver alloy frame adds some extra durability, while the Polished green and/or grey True Color® glass lens come with 100% UV protection.
Equal parts stylish and sturdy, the Original Pilot will last you a long time.
More importantly, they're available in a variety of sizes (52, 55, and 57mm). This means that you can make sure that you get the perfect fit.
Pros:
Classic, versatile aviator style
Reasonably priced
Comfortable to wear
Cons: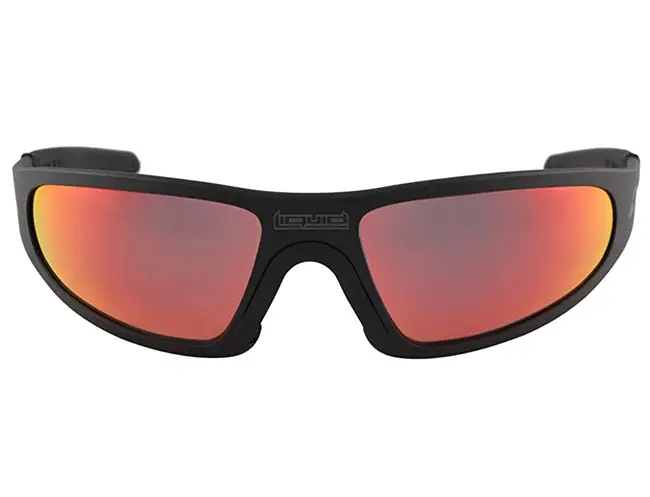 Liquid Eyewear is a relatively new manufacturer. They "only†started out in 2002 mainly as a sunglass manufacturer for celebrities.
However, later on, they started producing more functional sunglasses. In fact, their sunglasses, whose frames are manufactured in Yuma, Arizona, are a favorite among U.S military troops stationed in the Middle East.
The Liquid Player, in particular, is an extremely common pick.
Coming at an attractive price point, especially for the features that it brings to the table, the Player is the perfect pair of glasses for those who need shade whenever they're out and about. In addition to the standard 100% UV protection, the glasses come with a 13% light transmission with minimal effect on color clarity.
The build is also quite sturdy, and although the design is not as classic as that of aviator glasses, it's good enough for several types of faces.
Additionally, the Player has hinge-less frames for the best durability and fit.
If you prefer something that can keep up with you, especially when you're out playing golf, surfing, or playing tennis, then the Player might just be for you.
Pros:
The slip-resistant fit is perfect for those who need shade while out and engaging in physical activities
Polarized
Excellent color clarity
Cons:
Hinge-less sunglasses can be bulky and hard to find room for in tight storage spaces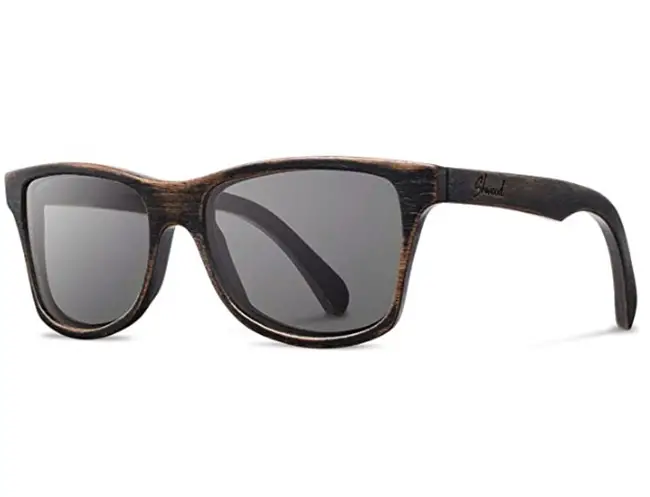 Manufacturers of eyewear out of Portland, Oregon, Shwood is one of the few makers of the best eyeglasses made in the USA.
Their best model? Arguably, the Canby. It's also one of their most popular lines.
Made in the same mold as the classic wayfarer shape, the Canby fits in several types of shapes and sizes. More importantly, the frame itself is extremely durable. It's made out of a premium kind of hardwood. Yet, at the same time, the finish is very smooth.
As for the lenses themselves, they offer 100% UV protection and are polarized.
If you're looking for a casual pair of glasses and don't want to wear a classic Aviator, you might want to take a look at the Canby.
Pros:
Polarized CR-39 lenses
Hardwood frame
Versatile and stylish fit
Unique design
Cons:
Design and aesthetics might not be for everybody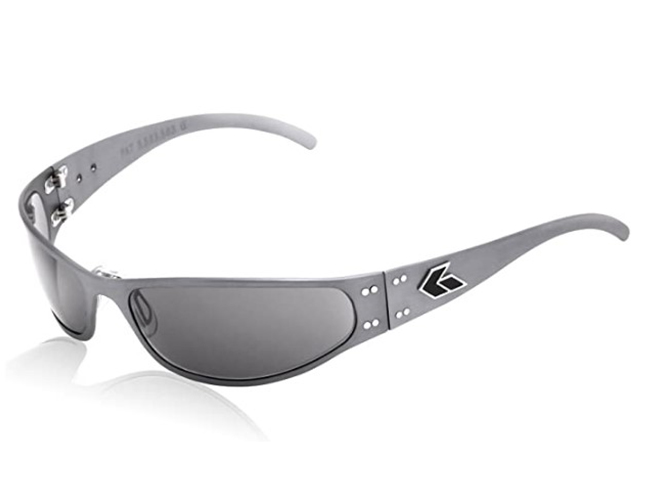 The Gatorz Radiator Sunglasses might not be the best eyeglasses made in USA, but they're certainly one of the most durable.
The frame alone is made out of7075 Billet Aircraft Aluminum. This means that it's designed to withstand all kinds of abuse. In addition to this, the dual-sided 5-barrel hinges is backed by a 4-rivet system for added durability.
As for the lenses, they come equipped with TrueRay optics technology. This helps improve clarity and perception, all the while reducing glare.
So long as you don't mind its militaristic design, these sunglasses will last you a long time.
Pros:
Surprisingly affordable
Made out of aircraft-grade aluminum
Anti-scratch coating
Cons:
The design might be too rugged for some
Final Thoughts
And there you have it, the best eyeglasses made in USA.
As you can see, the eyeglass industry in the United States is not dead yet. There are still plenty of manufacturers left willing to support the local economy. In fact, there are even more than are not on our list.
Manufacturers such as Kala Eyewear, Shuron, Dom Vetro, Lowercase NYC, and State Optical Co., among others, are just some US-based eyeglass manufacturers.
So, what are you waiting for? If you're looking for the best eyeglasses made in USA, then our list will be useful in your search.